During last October's Federal Election campaign Tony Van Bynen, now MP for Newmarket-Aurora, made it explicitly clear he was in favour of a ban on handguns.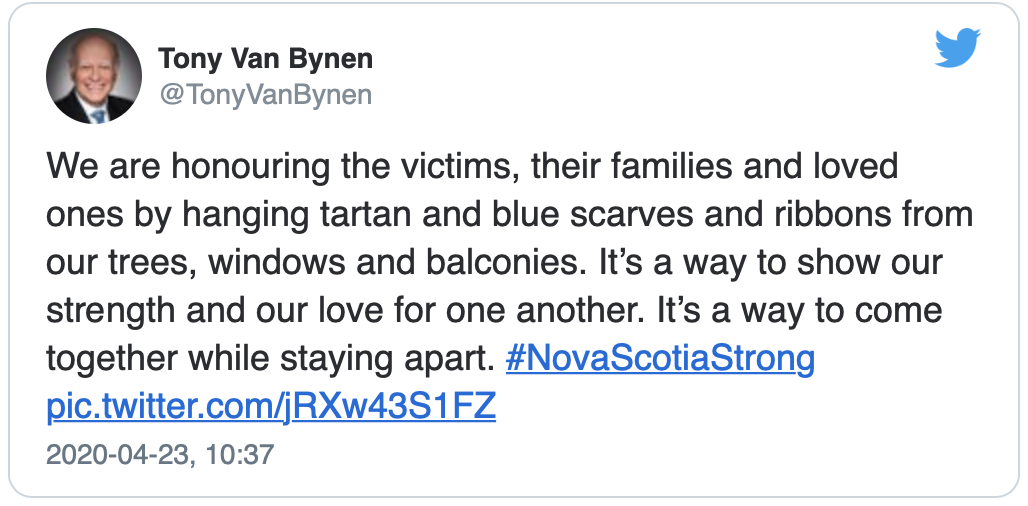 On 20 April 2020, in the wake of the mass murders in Nova Scotia, Prime Minister Justin Trudeau said the Government would strengthen gun control legislation as soon as possible.
Semi-automatic handguns
Reports in the Toronto Star this morning tell us the RCMP have confirmed that the killer was carrying several semi-automatic handguns and two semi-automatic rifles.
When the legislation comes before this minority Parliament Van Bynen's vote will be crucially important – it carries the same weight as any other MP's vote.
But, as a Liberal MP who believes in a nationwide ban on handguns, his voice could be particularly influential and persuasive.
He honoured the victims of the massacre in Nova Scotia on social media. A vote to ban handguns nationwide would be a lasting tribute to their memory.
This email address is being protected from spambots. You need JavaScript enabled to view it.
My email/letter exchange with Tony Van Bynen MP and Bill Blair MP on handguns
By email and Canada Post: 29 April 2020
Good Morning Tony
Thank you for your reply of 26 April 2020 to my email of 26 January 2020. I am grateful you have taken the time to respond.
You tell me you have forwarded my 26 January email to the Minister, Bill Blair, and I have followed this up with my own email to him. It is pasted below for your information.
Mr Blair is, of course, in no position to speak for you on whether you support the Class Action against Smith and Wesson being brought by the victims of the Danforth mass shooting. Can I ask again if you support the class action?
Here is a link to the CBC's reporting:
https://www.cbc.ca/news/canada/toronto/danforth-shooting-class-action-lawsuit-smith-wesson-1.5398684
The story in this morning's Toronto Star confirms that the Police now know that the mass murderer in the Nova Scotia killings was carrying several semi-automatic handguns and two semi-automatic rifles. Here is the link:
https://www.thestar.com/news/canada/2020/04/28/nova-scotia-rcmp-to-provide-update-on-investigation-into-mass-killing.html
As this correspondence with you concerns matters of public policy between a constituent and an MP I am posting our exchanges on my website.
I look forward to hearing from you.
Yours sincerely
Gordon Prentice
___________________________________________________________________
By email and Canada Post: 29 April 2020
Dear Mr Blair
We are all shocked to the core by the terrible tragedy in Nova Scotia – the deadliest mass shooting in Canadian history. We hope the Government will do everything it can to minimise the possibility of such a brutal, cold-blooded slaughter ever happening again.
My MP, Tony Van Bynen, believes as I do that there should be a nationwide ban on handguns. He made his position clear during last year's Federal Election campaign.
I wrote to Mr Van Bynen on 26 January 2020 asking for his views on a Toronto Star editorial that day which described proposals to give municipalities powers to ban handguns on their patch as an "unworkable and ineffective idea" which defied logic.
Mr Van Bynen replied to my letter on 26 April 2020 after the full horror of the massacre in Nova Scotia became known. He wrote:
Thank you for writing to me regarding banning handguns in Canada. The Prime Minister's position with respect to gun control is clear. For ease of reference I am attaching a link to his most recent statements: https://www.thechronicleherald.ca/news/canada/trudeau-promises-swift-action-on-gun-control-in-light-of-nova-scotia-shooting-439870/
The matter is also reflected in Hon Bill Blair - Minister of Public Safety's Mandate Letter and his approach is largely captured in the following article. https://www.theglobeandmail.com/politics/article-ottawa-to-implement-gun-control-strategy-in-multistep-process-bill/ I will submit your email correspondence to Minister Blair.
Tony Van Bynen MP
Newmarket-Aurora
Although Mr Van Bynen did not make it explicitly clear, I am bound to assume that in forwarding my correspondence to you he is inviting you to address the points I raised with him concerning (a) the feasibility and workability of a partial handgun ban and (b) the questions I had asked him to table.
Are you in a position to comment on the point made in the Toronto Star editorial about the impracticability of a partial handgun ban? And would it be possible for you to answer the questions I asked Mr Van Bynen to table?
Can I ask you to acknowledge receipt of this email and indicate if I can expect a substantive reply to the points I raise?
I am very grateful.
Yours sincerely
Gordon Prentice
__________________________________________________________________
From: Gordon Prentice <This email address is being protected from spambots. You need JavaScript enabled to view it.>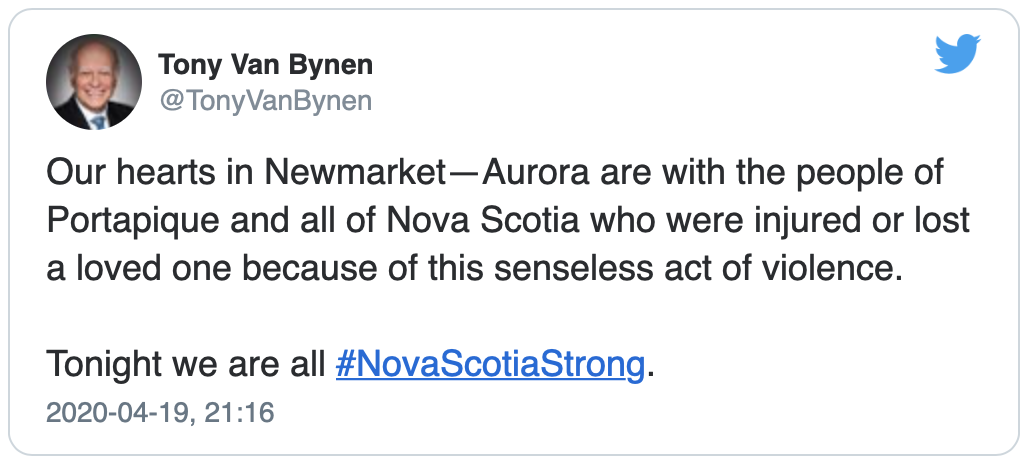 Sent: Monday, April 20, 2020 5:32:45 PM
To: Van Bynen, Tony - M.P. <This email address is being protected from spambots. You need JavaScript enabled to view it.>
Subject: The Massacre in Nova Scotia
By email and by Canada Post
Good afternoon Tony
In the light of the terrible massacre in Nova Scotia and your Tweet #NovaScotiaStrong I am writing to ask you again what steps you are taking to advance a ban on handguns, a policy you favour.
I should also be grateful if you would address the points made in my letter of 26 January 2020.
Gordon Prentice
__________________________________________________________________
By email and by Canada Post
Tony Van Bynen MP
House of Commons
Ottawa K1A 0A6
26 January 2020
Good afternoon Tony
Banning handguns
I am writing to you again because we share a common objective to see handguns banned in Canada.
This morning's Toronto Star editorial calls for a ban on handguns and says the Prime Minister's mandate letter to Bill Blair in December only mentions assault rifles.
"On handguns, it speaks only of working with provinces and territories "to give municipalities the ability to further restrict or ban handguns" — the position the Liberals campaigned on last year.
This is an unworkable and ineffective idea. The idea that individual cities can usefully impose bans on handguns defies logic…"
https://www.thestar.com/opinion/editorials/2020/01/26/banning-assault-rifles-is-fine-but-handguns-are-the-problem.html
What are your thoughts on this?
At the bottom of page 4 of this morning's Star there is a short piece about a fatal shooting last night in Scarborough – Bill Blair's own patch. One man was shot in the chest and died and another was shot in the head and is in hospital with life threatening injuries. A woman was shot in the hand.
This kind of gun violence is becoming normalised with stories which would once have appeared on the front page being found deep inside the paper.
As Parliament returns this coming week after the Christmas break, would you (a) raise this issue of gun violence at the next Liberal caucus and (b) seek a meeting with Bill Blair to ask how he intends to respond to the plague of handgun violence. How will the plan to give individual cities the right to impose bans on handguns work in practice?
I wrote to Bill Blair twice during the Government's consultation on firearms.
I should also be grateful if you would table these written questions:
(1) What estimate the Minister has made of the cost to Municipalities of (a) implementing and maintaining a local ban on handguns or (b) restricting access to handguns?
(2) If the Minister will make it his policy to collect statistics on the number of people who have been left permanently disabled as a result of a handgun assault, specifying in each case the nature of the injury?
(3) How many persons under the age of 18 have been (a) fatally shot and (b) wounded in each of the last 10 years by someone using a handgun?
On 16 December 2019 I wrote asking if you would support the class action lawsuit brought by victims of the Danforth shooting against gun maker Smith and Wesson. The story is set out here in the Globe and Mail:
https://www.theglobeandmail.com/canada/article-toronto-danforth-shooting-victims-lawsuit-gun-maker-smith-wesson/
Can I ask when you are likely to be in a position to respond?
I look forward to hearing from you.
Your sincerely
Gordon Prentice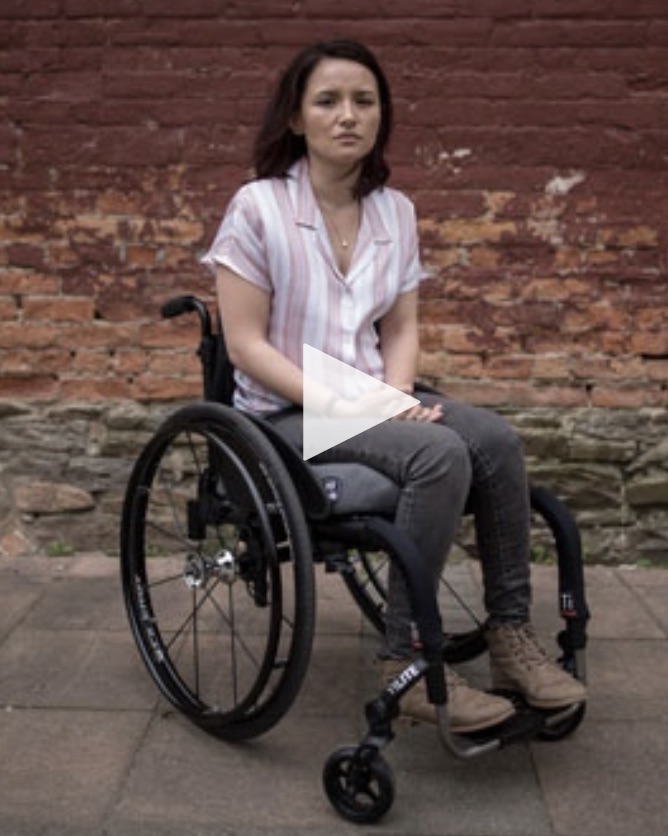 Danielle Kane, shot in the Danforth, left paralysed from the waist down.
Update 29 April 2020: From the Globe and Mail: Canada set to ban assault-style weapons.
Update 1 May 2020: From the Globe and Mail: Trudeau announces ban on assault style guns. And will the rampage in Nova Scotia prove to be a pivotal moment? And from the Toronto Star: Much more must be done.
Update on 3 May 2020: From the Globe and mail: Trudeau's hurried assault weapon ban is a weak half measure.
"Most puzzling of all is the government's stance on handguns. It has no intention of banning them in Canada; at best, as Mr. Trudeau repeated on Friday, Ottawa will give municipalities the power to restrict or ban handguns within their own jurisdictions.
That is an odd choice, and an empty gesture. If a ban on military-style semi-automatics is an effective way to reduce the number of weapons in circulation and available for mass shootings, then surely a similar ban on handguns – which also have no legitimate civilian purpose, and which kill and wound more Canadians every year than any other firearm – would have a similar effect. Friday's announcement accomplished two things. It banned a style of weapon that has no place outside of the military, but it also reminded people who care about gun control that the Liberals have been inconsistent and at times illogical in their approach to the issue."