This Thursday (28 October 2021) York Regional Council will be asked to ratify a decision taken in Committee on 14 October 2021 that redesignates 1,400 acres of "protected countryside" in Markham and Vaughan to allow uses that would otherwise be prohibited in the Greenbelt. (The "fingers" to be opened for development are shown in red on the map below.)
The developers' proposal was backed by elected members in a 15-5 vote with Newmarket's Mayor and Regional Councillor on opposite sides of the argument.
The Town's Mayor, John Taylor, condemns the proposal – privately initiated by developers - which he claims would set a damaging precedent.
But Newmarket's Regional Councillor Tom Vegh takes a different tack, voting in favour of the developers' proposal but for reasons he keeps to himself. Vegh says nothing throughout the one-and-a-half-hour-long debate.
Residential, commercial and industrial uses
York Region planning staff tells elected members the application to amend the York Region Official Plan 2010 would change the land use designation from Agricultural to Rural which:
"would allow for additional non-agricultural uses such as rural residential, commercial, or industrial uses rather than limiting the uses to complementary open spaces uses that meet the intent of the Provincial Greenbelt Plan, the 2010 York Region Official Plan and local Official Plans."
The staff says approval
"would have implications on the other Greenbelt lands currently recommended through the Region's Municipal Comprehensive Review for redesignation from Agricultural Area, and potentially similar Greenbelt lands beyond York Region."
Follow the money
Taylor weighs in against the developers' plans claiming they are in it for the money:
"If there (were) no financial gain or if all the financial gain related to the land that could be developed for housing could be put into a Community Trust then this amendment wouldn't be being pursued."
Taylor says the issue is best left to the Municipal Comprehensive Review which is due to report in six months, in April 2022.
Newmarket Today's coverage is here.
Vegh should explain
This Thursday (28 October) the Regional Council will be asked to endorse the Committee's decision and instruct staff to prepare a bylaw giving effect to the developers' proposal which had been received the day before.
Tom Vegh should tell us why he took the developers' position – against the advice of his colleague, John Taylor, and the combined planning staffs of Markham, Vaughan and York Region and a host of other independent and impartial bodies.
We don't pay Regional Councillors (or MPs and MPPs for that matter) to sit there and suck their thumbs and say nothing. Expressing an opinion on controversial issues is part of the job description. (Tony Van Bynen please take note)
1 November 2021
But if Vegh remains silent on 28 October we can look forward to the upcoming Newmarket Council meeting on 1 November 2021 when councillors will get an update on developments at York Regional Council, either from Taylor or Vegh.
I suppose the Mayor could pull rank and give the report back.
Personally, I'd prefer to hear from Tom Vegh.
This email address is being protected from spambots. You need JavaScript enabled to view it.
The lawyer acting for the developers is Ira Kagan who acted for Marianneville in Glenway.
The Greenbelt is always under threat. Eternal vigilance is needed to protect it.
Update on 28 October 2021: Letter from the Greenbelt Foundation dated 27 October 2021, put before York Regional Council on 28 October 2021.
And one from the York Federation of Agriculture.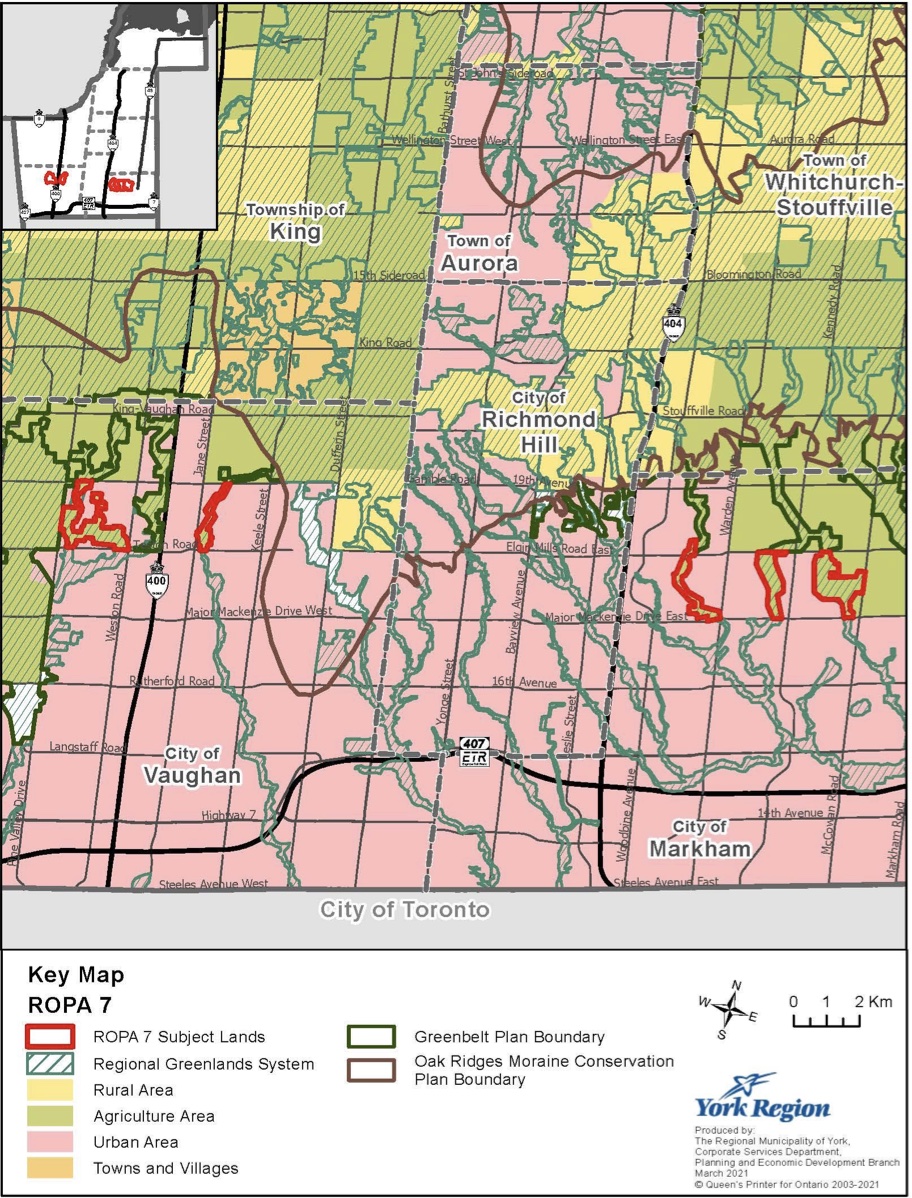 York Region debate on 14 October 2021on Regional Official Plan Amendment 7 (ROPA7) proposed by a group on landowners. This is what Newmarket Mayor John Taylor said about protecting the Greenbelt:
"There are two principles here for me: the environment and climate change and (setting) a precedent in relation to the integrity of the Greenbelt.
Knowing that the landowner group has filed a letter saying they don't intend any other uses beyond what would be allowed - even those allowed under rural designation - is good to hear but it doesn't stop precedent.
It doesn't stop them from changing their minds down the road. This isn't a direct question, a rhetorical one, but is Mr Kagan willing to commit to not using this, if successful, as a precedent in any other cases he represents in relation to planning applications relating to the Greenbelt or otherwise?
I suspect the answer would be no. Because these decisions do get used. We know that. We've all been in LPAT or OMB and we see how they get used. And then they get used again to stretch something little further.
I don't see the planning rationale. I think playgrounds and amenities should be within the housing development realm. That I'm willing to leave to the local decision-making people so I don't really hang my hat on that.
For me it's really more about protection of the environment in the GTA. I don't think it is a municipal issue. The precedent is very significant and I don't see the upside. (For) the developer groups that want to pursue this - and understandably so, they are business people - there is significant financial gain as a result. And I suspect if there's no financial gain or if all the financial gain related to the land that could be developed for housing could be put into a community trust then this ROPA 7 wouldn't be being pursued.
That's not criticism. I actually respect the developers for doing their job and pursuing that objective. But it kind of leaves you wondering… Perhaps even members of public and members of York region council are wondering… the developers would like this but Markham planning staff and Vaughan planning staff and York Region planning staff do not support it. And one of the landholders themselves, Romandale, I believe do not support it.
Who doesn't support the Amendment?
"York Region Federation of Agriculture doesn't support it. The OMB has ruled, if not directly then tangentially, against it. And it was upheld in the Divisional Court. And the York Region Agri-food Advisory Committee doesn't support it. The TRCA (Toronto Region Conservation Authority) and LSRCA (Lake Simcoe Region Conservation Authority) certainly have concerns. And since we can read excerpts from the conservation authorities' letter, as was done earlier, the excerpt I'll read is (this one):
"In order to properly assess the potential impacts of introducing active recreation uses into the Greenbelt additional study in the form of an addendum to the applicable Master Environmental Servicing plans (in sub-watershed study and its related studies) should be completed."
They are basically saying they are not position to say what the full impacts of the introduction (of these) uses entails.
We've got a list of expert organizations saying either we've got great concerns or we don't support this. And really no members of the public… and certainly I suspect the members that would move into these communities… knowing the recreation amenities are no longer embedded in the community… might not support it. But, again, that's a local issue.
But I just can't (see) an overwhelming reason to look aside from the potential of keeping this and expanding the naturalized areas. And, in particular, creating a precedent.
Regional Official Plan Amendment or Municipal Comprehensive Review
"I guess I would finish by saying that Mr Kagan himself pointed out that this decision can be made two ways. It can either be made through ROPA or through a Municipal Comprehensive Review.
I don't know about everybody else. But I tried reading all this. I tried to understand (and) I'm sure the members of Vaughan and Markham understand this. I give you that fully. I understand you've been engaged in this much more.
But we get all this information. Some of it, changes (proposed) by letter coming in at the last minute. We've got a choice between doing a ROPA 7 that's been brought here today or through a municipal comprehensive review.
A comprehensive review ties it to all other considerations. And (takes in the) concerns of all the commenting agencies. And we're over halfway through that.
I believe it's completed in April of 2022. Why would we as a Regional Council not continue to analyze this issue and all the related issues through a Municipal Comprehensive Review?
Because Mr Kagan said it's because they want to have the decision sooner?
I would rather see this through as a comprehensive process with staff providing full information throughout. I don't understand the rush on this and I do have a great concern about the precedent for the Greenbelt.
I don't see an overwhelming argument in favor of doing this - other than there's a greater yield for the developer. I might be missing something. But that's all I can come up. I support Councillor Heath's motion.
CHECK AGAINST DELIVERY
________________________________________________________________________________
Ira Kagan's statement to York Region's Committee of the Whole on 14 October 2021:
Thank you Mr. Chair and members of the committee. As you know I represent the block 41 landowner group in Vaughan and the Angus Glen landowner group in Markham and these are two of the applicants in ROPA7.
I think it needs to be stated - and it's true and it's obvious - but I think it bears restating. ROPA7 is about, and it is only about, redesignating prime agricultural lands to rural lands for portions of areas in Markham and Vaughan.
These are areas that are surrounded by urban settlement areas. ROPA7, in and of itself, does not decide where any park is gonna go anywhere in the Greenbelt. Those decisions are left for the locals. That's clear in ROPA7.
There really is no doubt that ROPA7 fully conforms with the Greenbelt plan. Despite what other people have written, there is no doubt the Greenbelt plan leaves it to the Region to map those portions of the protected countryside in the Greenbelt which are rural versus prime agriculture.
The Greenbelt plan did not map. It said the regions do that. In fact the region did that in its first Greenbelt conformity exercise. And the region is proposing to update that mapping through its MCR. And in the draft mapping the regional staff released they proposed to redesignate these very same fingers from prime agricultural to rural.
They are proposing to do what we asked them to do. The difference is we want it done now. They want it done through the MCR.
It simply makes no sense to suggest that if the region does it through an MCR it's permitted by the Greenbelt plan. But if the Region does it in response to a private application it's prohibited by the Greenbelt Plan. This makes no sense.
In fact it's clearly legal in both cases. These tablelands should never have been designated as agricultural in the first place. And ROPA 7 is a long overdue correction to that historical wrong.
In the Ministry of Municipal Affairs and Housing letter to the Region respecting ROPA7, on page 1 it makes it clear that the ministry response is not just from Municipal Affairs but also from the Ministry of Agriculture Food and Rural Affairs and the Ministry of Natural Resources. They were all consulted. If there was any debate whatsoever, any serious debate whatsoever, that ROPA7 might run afoul of the Greenbelt plan the Province would have said so in its letter. It did no such thing.
On the contrary it confirmed the numerous Greenbelt policies which permit all forms of Parkland and recreational facilities in the rural area.
And it likewise confirmed that this regional decision whether to redesignate or not can be made either through the region's MCR or, in advance, through ROPA7 which is a private application.
Now I want to just deal with the TRCA letters because the second letter really clarified the first one. And what the second letter really says is (this): all of the concerns that were expressed in its first letter should be in, and TRC expects will be, studied and evaluated through the local decision-making process. So in Vaughan that's typically the block plan process and in Markham it's typically a consolidation of the zoning and subdivision process.
TRC advises that the proposed uses in these ROPA7 lands - all of which are permitted by the Greenbelt Plan - they must be based on environmental and scientific study to ensure that the natural heritage system, including its features, will be protected. Of course that's true. This is nothing new. This is part of the standard approval process.
Now I'm only going to spend 10 seconds dealing with Mr Donnelly's letter to say that he's wrong in everything he says. And I also note that his client's lands "Friends of Kleinburg", they're not even covered by the ROPA7 area. And their lands are nowhere near ROPA7. I'm not really sure why the friends of Kleinburg have even written this letter and I'm frankly pleased to answer any questions that the committee might have. Thank you, Sir.