Tomorrow, voting begins in Richmond Hill for a new Mayor to replace Dave Barrow who resigned on 15 September last year after a six month absence on medical leave.
A week earlier, on 8 September 2021, Barrow persuaded his colleagues at a special council meeting to eliminate one of the two deputy mayors. Carmine Perrelli lost out to his arch-rival, Joe Di Paola, who has now been Acting Mayor for almost 11 months.
At the last election in 2018 for the two Richmond Hill Regional Councillor positions, Joe DiPaola was elected with 11,758 votes (22.35%) just pipping Perrelli who trailed with 11,418 votes (21.7%).
The two are now locked in a fierce battle for the Mayoralty with seven other candidates also on the ballot paper.
Carmine Perrelli is an unsympathetic character who deserves to lose.
Strong Leadership
His campaign literature parades his "strong leadership".
Archie Brown, in his 2016 book "The Myth of the Strong Leader", writes:
No-one ever says, "What we need is a weak leader". Strength is to be admired, weakness to be deplored or pitied. Yet the facile weak-strong dichotomy is a very limited and unhelpful way of assessing individual leaders.
There are many qualities desirable in a political leader… These include integrity, intelligence, articulateness, collegiality, shrewd judgement, a questioning mind, willingness to seek disparate views, ability to absorb information, flexibility, good memory, courage, vision, empathy and boundless energy. Although incomplete, that is already a formidable list…
Carmine Perrelli just doesn't cut the mustard. He is loud, belligerent, argumentative, boorish and self-important.

Intimidation and fear
He is also thin-skinned. And to cap it all, he blocks people he doesn't like from his Twitter feed.
Last April, Perrelli was the subject of a Code of Conduct complaint brought to York Regional Council by a Richmond Hill lawyer, Jason Cherniak, who objected to being blocked.
Joe DiPaola waded into the debate. He told members of York Regional Council that Perrelli was not afraid: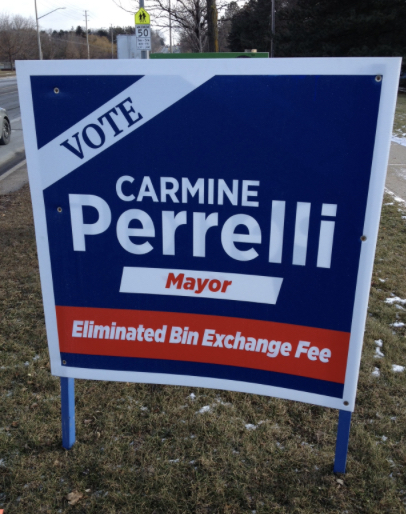 "To use his position to intimidate and cause fear"
He went on to brand Perrelli as
"an extremely problematic elected official"
Who needs a Code of Conduct?
York Regional Council only recently adopted a Code of Conduct. It had been delayed for years by endless foot-dragging with some members, including Perrelli, questioning whether a Code of Conduct was needed at all.
He told the Regional Council that Canada's Criminal Code, an observant press and media and elections every four years was enough to keep councillors honest and diligent. He says the Code of Conduct is:
"a weapon for political adversaries to use against you."
Clearly, he believes people are out to get him.
Garbage
Perrelli boasts in his campaign literature that he "Eliminated the Bin Exchange Fee" where residents could trade in their old, damaged garbage bin and get a new one for free.
Except that Perrelli did not have the authority to do that. And Richmond Hill Council, on the advice of its Director of Financial Services and Treasurer, is seeking to recover $139,623 from him.
How this will play out if Perrelli becomes Mayor is uncertain.
The Council website reminds us that the Mayor's role is defined by the Municipal Act 2001 s225 which says the Mayor, besides being the Chief Executive Officer of the Municipality, must also ensure that Council decisions are implemented.
So, if he is elected Mayor, what happens to the $139,623 he owes the Town of Richmond Hill?
A Strong Leader wouldn't be afraid to tell us.
This email address is being protected from spambots. You need JavaScript enabled to view it.
Update on 25 January 2022: From the Toronto Star: David West - backed by former Mayor Dave Barrow - wins by-election and is Richmond Hill's new Mayor.