Getting information from public bodies can cost a small fortune.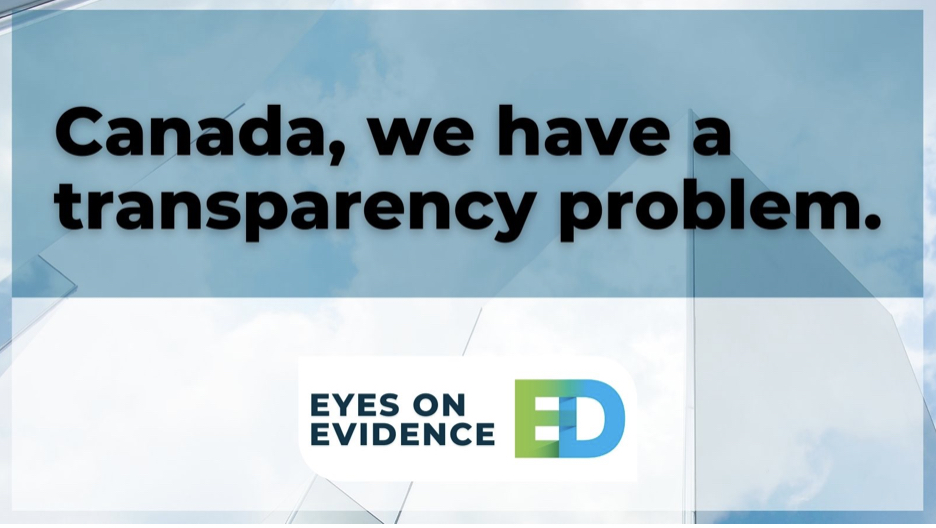 Southlake Hospital, for example, wants $1,179 before they will let me see their Master Plan and the agendas and minutes of the Committee that considered it. (See below) Personally, I think this kind of material should be deposited in the local library, redacted if necessary.
As a general rule, openness and transparency lead to better public administration. The case is made by an opinion piece in this morning's Globe and Mail by Farah Qaiser and Rachel Maxwell from "Evidence for Democracy". They want to know if the evidence behind policy decisions can be found by the lay public.
Closed Sessions
There are often good reasons for keeping information under wraps but these should be spelled out. It's too easy for municipalities to keep their discussions on important policy issues confidential when they should be debated in open session. Too often, they retreat into closed session to get advice from the lawyers and then use Solicitor-Client privilege to shield them from scrutiny. A favourite ruse is to say that the release of information would reveal their negotiating tactics – and that disclosure would give the game away.
Information can also be withheld to cover-up bad, ill-judged or embarrassing decisions. But experience tells me sunshine is the best disinfectant.
Dining out on our dollar
It cost me $75 to find out that our MP, Tony Van Bynen, when Mayor of Newmarket, charged his butter tarts and snacks to the taxpayers. The retired banker was dining out on our dollar. Importantly, the information didn't say who he was dining with nor the purpose of the breakfast or lunch "meeting". Apparently there were "privacy considerations". That triggered another FoI request and it came back with lots of blank spaces.
Bob Forrest's plans to redevelop the Clock Tower here in Newmarket could easily have blighted our historic downtown had it not been for the cascade of Freedom of Information requests, the answers to which demanded a fundamental reappraisal of the project.
But even now, some information is still withheld. Bob Forrest claimed he had a "tacit agreement" with the Town in 2013 which would have allowed his development to go ahead. Who knows? The Town refuses to release the June 2013 closed session records of the Committee of the Whole. I was told the minutes are to be kept under lock and key until their release
"would no longer have any impact".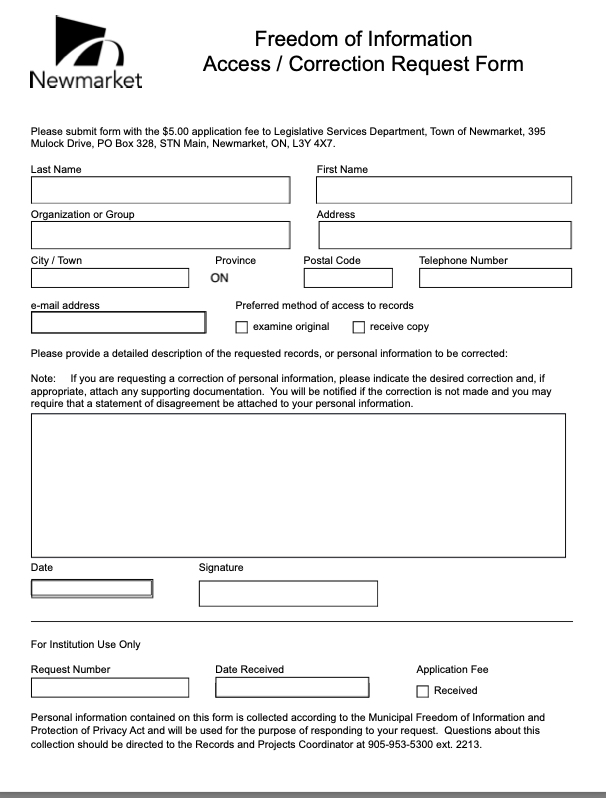 I shall try again in 2023 and see if the passage of a decade has made a difference. After all, Bob Forrest is now history and the Clock Tower has a new owner.
Glenway
It was only because of a FoI request that I found out that the Town had considered buying the Glenway land in 2008. This was kept secret during the community's long battle with the developer, Marianneville, who wanted – and succeeded – in building on the former golf course.
If people had known then that the Town had turned down an offer to buy the land it would have unleashed a whole new dynamic. The land, now worth hundreds of millions, was bought by Marianneville for under $10M in 2010.
Institutional Memory
Municipalities have, by their very nature, an institutional memory.
And political parties do as well. They remember what their political opponents did or didn't do in the past. But here in Ontario the political parties don't organise at municipal level and all candidates for council run as independents. Their triumphs and tragedies are soon forgotten.
Slow burning fuse
Freedom of Information requests often have a slow burning fuse. They can take years to bear fruit.
Even when I was an MP in the UK – and could table Parliamentary Questions on any subject under the sun – I occasionally found that Freedom of Information was the way to go.
Exposing tax dodgers
The Conservative donor and multi-millionaire tax dodger, Michael Ashcroft, was "elevated" to the House of Lords in 2000 after promising the then Conservative leader, William Hague, that he would bring his tax affairs on-shore and pay UK taxes on his worldwide income. Previously, he had been non-domiciled, meaning that he would pay UK tax only on income earned in the UK or brought into the UK from abroad.
In 2007 I asked the Cabinet Office the simple question:
"What form did Michael Ashcroft's undertaking take and to whom was the undertaking given?"
After getting nowhere, I appealed to the Information Commissioner who decided in March 2010 the information must be made available to me. Ashcroft then made a statement confessing he was non-domiciled. He wasn't paying UK tax on his worldwide income as he had promised to do to get into the House of Lords a decade earlier.
The controversy led to amendments to the Constitutional Reform and Governance Bill which was going through Parliament at the time. It became the law of the land for members of the Commons and Lords to be UK domiciled for tax purposes.
Peers now have a legal obligation to report their world-wide income to Her Majesty's Revenue and Customs. This, of course, also applies to Lord Black of Crossharbour (aka Conrad Black) even though he was in a US prison when the legislation was passed.
But more about Conrad Black later…
This email address is being protected from spambots. You need JavaScript enabled to view it.
Example 1: Southlake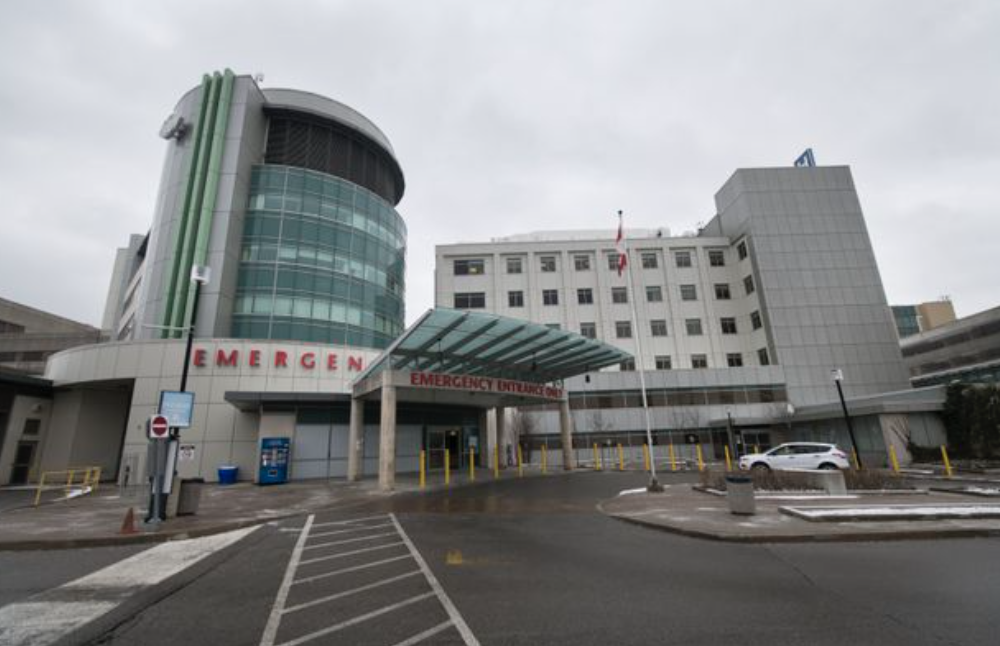 The future of Southlake hospital was one of the big stories in the local press last year. The Chief Executive, Arden Krystal, supported by colleagues, made the case for a new acute hospital on a greenfield site outside Newmarket with the present site on Davis Drive earmarked for walk-in care.
I wanted to find out more about this huge policy decision – the pros and cons and the rationale.
When did the proposal first emerge? What prompted it? In my head I had a million other questions.
Almost seven months ago I put in a Freedom of Information (FoI) request for sight of the Master Plan for the proposed new hospital and was startled to be told last week that this would cost me $713 – and that I would have to wait another six months for the material.
I don't complain about having to wait over a year for this information. We are living through a pandemic and when I lodged my FoI last August I stressed that the battle against Covid 19 was the hospital's top priority and my FoI request should only be answered when the staff had the time and opportunity to do so without taking them away from more important matters.
I also wanted sight of the agendas and minutes of the Southlake Comnmittee that considered the Master Plan. I am told this is going to cost $466 and, again, won't be available for six months.
I am left wondering why this material can't be deposited in the local library, redacted if necessary. $1,179 is a lot of money to fork out.
Example 2: Metrolinx
On 12 August 2021, the regional transportation agency, Metrolinx, told East Gwillimbury Council that an all-day two-way 15 minute GO Train service would be extended north from Aurora to Bradford. Councillors were told that Green Lane would benefit and that this was possible
"thanks to further study and optimisation of service plans".
It has been obvious to me for years that a fast train service through Newmarket (which I support) would, inevitably, mean grade separations in Town and these cost a small fortune.
So I asked Metrolinx for sight of the records that allowed them to make the 15 minute commitment not once but on multiple occasions since last August. They tell me they can't meet the statutory deadline for replying and need another eight weeks to consider my request because they have to search through a large volume of records.
Example 3: The valuation of Block 120 at Glenway West.
Last year, the developer Marianneville donated land to the Town and received in return a Donation Receipt for $14,290,000. This receipt can be used by Marianneville to offset tax payable to the Canada Revenue Agency.
The issue was raised by a member of the public, Kathryn Morton, who took a deputation to the Town's Committee of the Whole on 31 January 2022.
The Town's Finance Director, Mike Mayes, told the Committee:
"We issued a tax receipt – actually it is a donation receipt. It can be used for tax purposes. The cost (to the Town) was just basically printing off a piece of paper."
The Mayor, John Taylor, assured the deputant:
"We did get a land appraisal."
The Town has a Donations Policy and land gifted to it must be independently valued by an expert.
But since the gift of Block 120 cannot in any sense be regarded as confidential (as both parties have publicised the donation) I have asked for sight of the Valuation Report. I want to know how 16 acres of land zoned as Open Space with two large stormwater ponds and containing a Significant Water Recharge Area can be worth over $14M. I am left wondering how many other stormwater ponds and their adjacent lands, if any, have been gifted to the Town by developers in exchange for a Donation Receipt.
The Town tells me to expect a decision on 7 March 2022 on whether or not they will release the valuer's report.