This morning's Globe and Mail tells me Doug Ford has been quietly moving ahead with plans to sell beer in corner stores.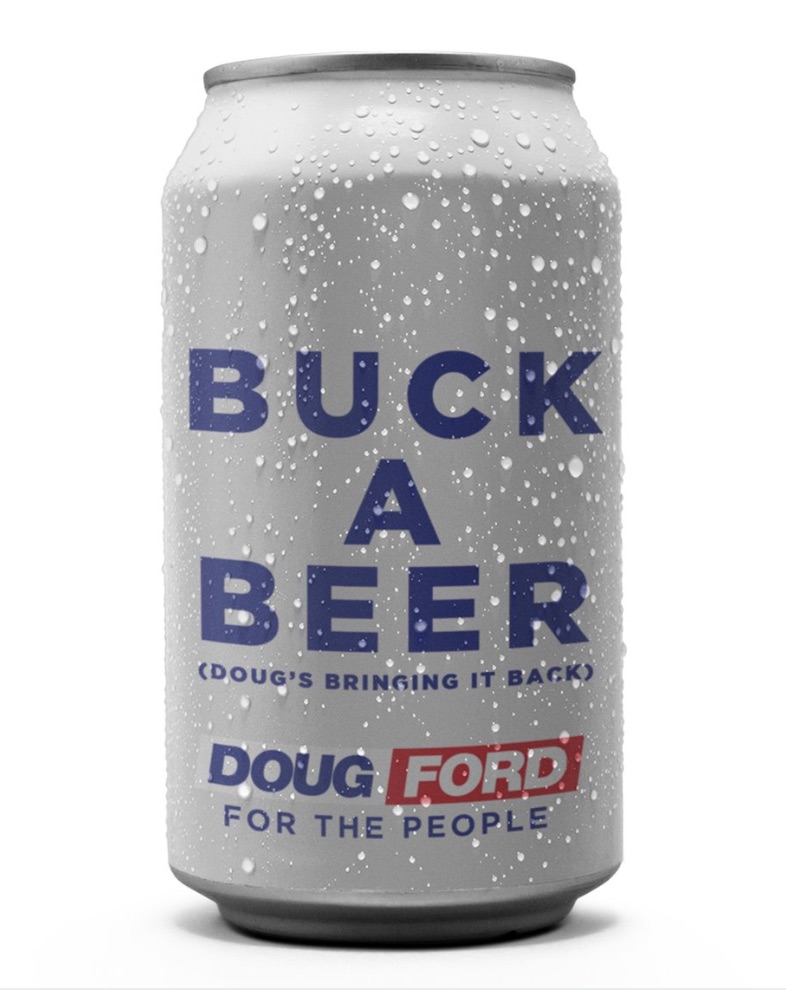 It seems the great man has been mulling the pros and cons of pressing ahead with his unfulfilled promise from the 2018 election to allow convenience stores to sell beer.
I laughed out loud when I read about the closed door consultations, initiated by the Ministry of Finance, which:
"required all participants to sign non-disclosure agreements, keeping the talks secret."
When Ford vowed to break the Beer Store monopoly he overlooked the fact there would be huge costs in ripping up a watertight legal agreement with the big brewers. Ford then said legislation would protect the Province from the consequences of unilaterally breaking the contract. That ran into the sand.
Personally, I think it is totally weird that you can't buy beer at a corner store. When I first arrived in Canada from the UK it astonished me that beer and wine could only be purchased in Provincially regulated outlets. Now I'm used to it but, when I think about it, I still find it crazy.
Christine and Dawn
I recall going to see my then MPP Christine Elliott in August 2019 to ask her when Andrew's Convenience store in Aurora would be allowed to sell beer and wines. Elliott was forever pointing to Andrew's Convenience store as the kind of local business that would benefit from the new, more liberal, policy. I remember her assistant, Dawn Gallagher Murphy, sitting in on the conversation, taking notes, saying nothing. Elliott assured me Andrew's would be selling beer in August 2020.
I couldn't see that happening when breaking the contract could cost $1 billion.
So this explains the secret consultation. Ford doesn't want anyone to remember his Buck-a-Beer fuelled promise to smash the Beer Store monopoly.
Making policy on the hoof
Ford makes policies on the hoof. They are not stress-tested before being announced to the public. This is a classic example.
In Ford's first term his media releases used to boast in a strapline at the bottom:
But that kind of triumphalism was abandoned long ago.
Promises casually made are now casually broken.
I have a list.
This email address is being protected from spambots. You need JavaScript enabled to view it.
Click Read More below for the G&M article
Ontario quietly moving ahead with plan to sell beer in corner stores.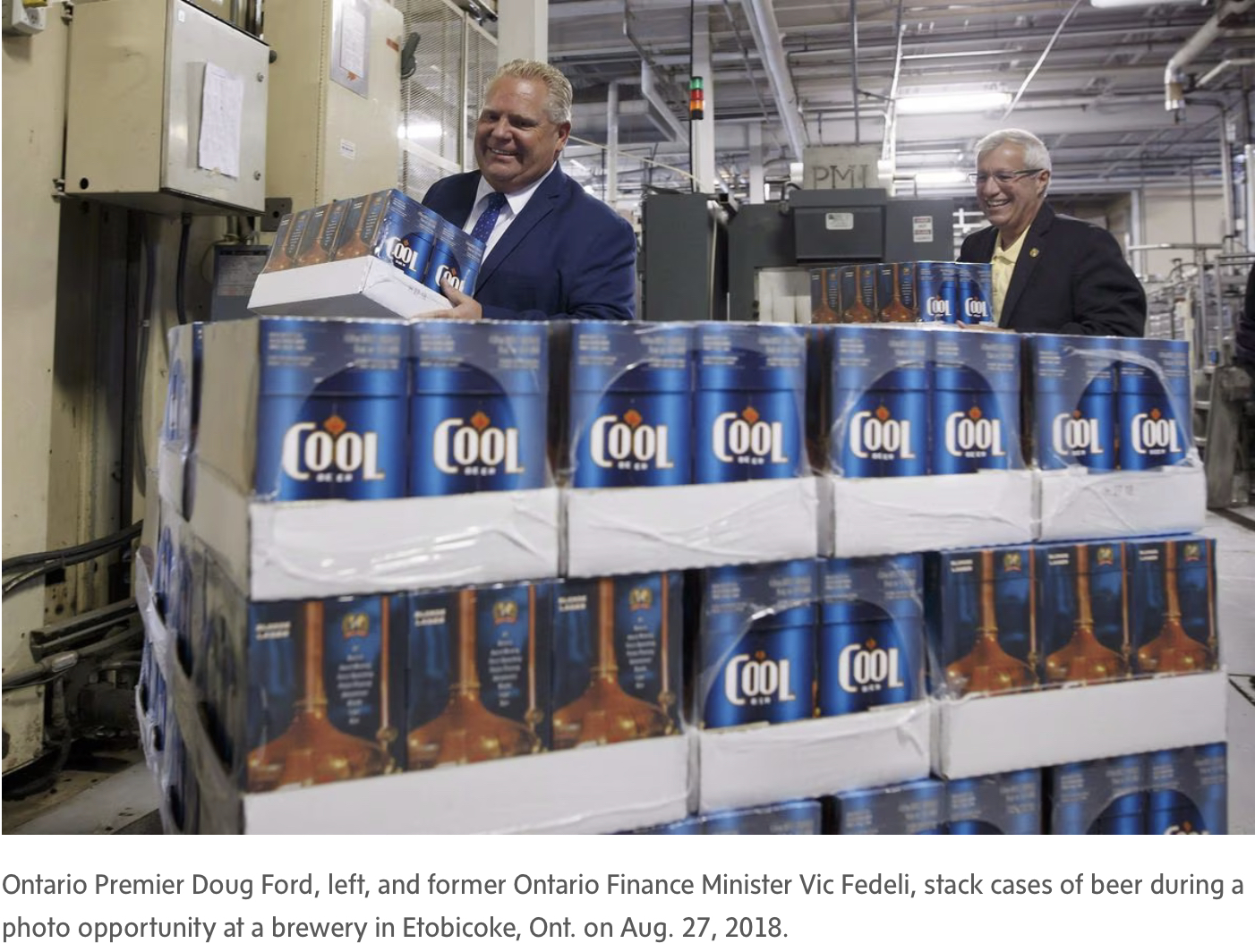 QUEEN'S PARK REPORTER
Ontario Premier Doug Ford, left, and former Ontario Finance Minister Vic Fedeli, stack cases of beer during a photo opportunity at a brewery in Etobicoke, Ont. on Aug. 27, 2018.COLE BURSTON/THE CANADIAN PRESS
The Ontario government has quietly revived its efforts to allow the sale of beer in the province's corner stores, launching a closed-door consultation process as a fall deadline looms for a decision on the future role of the brewing industry's Beer Store chain.
Within months, Premier Doug Ford's Progressive Conservatives must declare whether they intend to scrap or renegotiate the province's "master framework agreement" with the foreign multinationals that control the Beer Store. The 10-year deal, which was signed by the previous Liberal government and is set to expire in 2025, guarantees the chain's long-standing monopoly on the sale of 12-packs and 24-packs and forbids the sale of beer in corner stores.
In the spring, Ontario's Ministry of Finance, which oversees the province's alcohol retailing regime, launched consultations with the beer and convenience store industries and other groups – but required all participants to sign non-disclosure agreements, keeping the talks secret.
Beer at 7-Eleven, but don't take it home, now
The office of Finance Minister Peter Bethlenfalvy declined to make him available for an interview, or to detail the results of those consultations or the state of any negotiations with the Beer Store's beer-industry owners. A spokesperson, Emily Hogeveen, said the province supports "meaningful change" for alcohol sales in the province but that it is just "one of many priorities" for the government.
The Ontario Public Health Association, which counts doctors and nurses who work on public and community health as members, is warning against the move to allow beer sales in corner stores. It cites multiple studies showing that increases in the number of places where alcohol can be bought in Ontario, and in other jurisdictions, have already led to more consumption and more of the harms that come with it, such as suicides, drunk driving, emergency-room visits and higher rates of cancer.
The OPHA's executive director, John Atkinson, said the association declined to take part in consultations in April when the government required a non-disclosure agreement that would have forced the OPHA to keep its advice secret.
The association wrote an open letter in May instead, laying out the research and urging the government to change course, especially given Ontario's recent moves to allow alcohol in more grocery stores and for takeout and delivery from thousands of restaurants. (American convenience chain 7-Eleven has also won liquor licenses for its locations in the province to serve booze with food sold for consumption within its stores.)
"We're not saying that Ontarians shouldn't have access to alcohol. But there's really good access to alcohol right now," Mr. Atkinson said in an interview. "Further expansion is not needed."
Putting beer and wine in corner stores was a centrepiece of the PC Party's 2018 election campaign, which also pledged "buck-a-beer" prices. But the government all but abandoned the corner-store promise just a year into its first mandate after a standoff with the multinational brewers behind the Beer Store, which threatened litigation as sources warned that breaking the agreement could cost the government up to $1-billion in compensation.
Asked by a reporter about beer in corner stores in May, Mr. Ford said the government was still committed to the idea. He also suggested beer sales could be expanded to more locations of "big retailers" such as Walmart, which qualifies as a grocery store and already offers beer under the current rules. The Premier said the government would work with the Beer Store to strike a new deal.
Dave Bryans, the chief executive officer of the Ontario Convenience Stores Association, has been pushing for beer sales for years, as a way to revive an industry still struggling with the decline of tobacco use. He said the government had shared little about its current plans.
He also says a number of key issues still need to be resolved, including whether the Beer Store maintains its role as a distributor and whether it continues to serve as the bottle-and-can deposit-return depot both for beer and for other alcohol sold at the government's Liquor Control Board of Ontario (LCBO) outlets. But Mr. Bryans said he hopes that by Canada Day next year, even before the Beer Store deal formally expires, beer and pre-mixed alcoholic beverages could be on corner-store shelves.
Neighbouring jurisdictions in Quebec and New York State have long allowed beer sales in corner stores. It is also allowed in convenience stores in Newfoundland. In Ontario, beer and alcohol has also long been sold in rural areas in some convenience stores with special licences. The 2015 Beer Store deal allowed for the expansion of beer sales to hundreds of large grocery stores across the province.
A number of smaller Ontario-based brewers have in recent years been allowed to become shareholders in the Beer Store, as part of the 2015 agreement. But foreign-controlled market dominators Molson Coors Brewing Co., headquartered in Denver and Montreal, and Labatt, owned by Belgium's Anheuser-Busch InBev SA, still nominate a majority of the directors on the company's board.
Beer Store president Roy Benin declined to comment on any negotiations with the government. He said in an e-mailed statement that the company is "confident in its viability" and that its business model remains the best way to protect its 6,300 unionized jobs while "keeping beer prices low for consumers."