Two months after asking for an appointment with my MPP, Christine Elliott, I am getting one and I am grateful.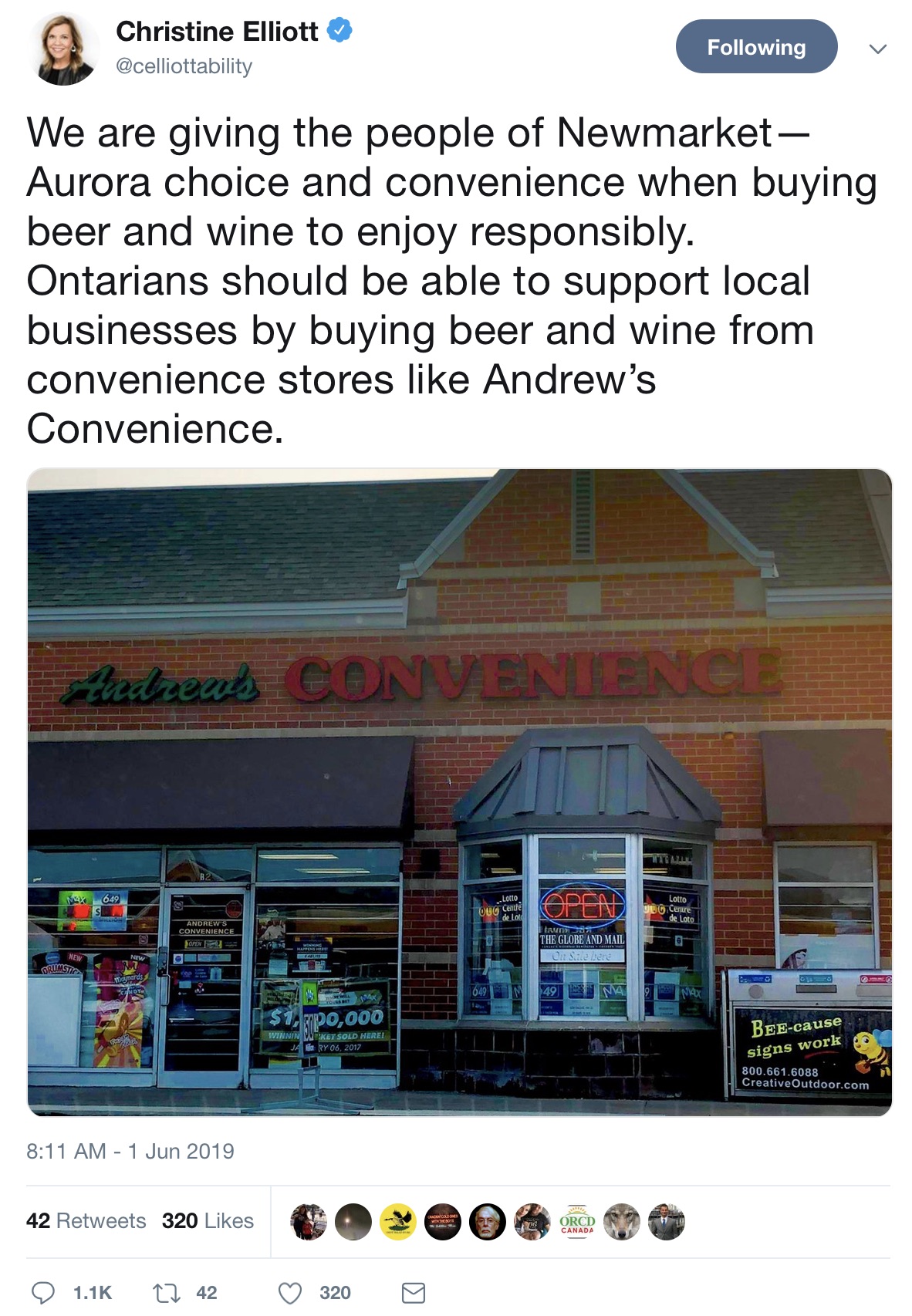 This morning's ERA newspaper tells me others aren't so lucky.
I have been given 15 minutes on Monday 12 August 2019 to say what I have to say and after the usual pleasantries I won't have a second to waste.
I want to raise two issues and I have given Dawn Gallagher Murphy, the Constituency Manager and Executive Assistant, notice of what these are.
There will be no pointless ambushes.
Issue 1: I want to find out what's happening with the Beer Store Act. It has gone through the legislature but has not yet been proclaimed by the Lieutenant Governor and is still not law. The Lieutenant Governor acts on the advice of the Executive Council of Ontario which is Ford's Cabinet by another name. If Ford wants it proclaimed he only has to ask and it will be done.
However, press reports suggest the Act will just lie there and not be brought into force. This would persuade the big brewers who (in the main) own the Beer Store to sit down and talk about the current contract with the Province which, says Ford, stifles competition.
A year ago, on 7 August 2018, Elliott told the legislature:
"Buck-a-beer is part of the government's commitment to transforming alcohol retailing in Ontario, which includes expanding the sale of beer and wine to convenience stores, grocery stores and big box stores. This is just further evidence that our government is going to do what we said we would do, and that's put Ontario consumers first."
So…
It's Question Time for my MPP
Question 1: When will Andrew's Convenience Store in Aurora be able to sell beer and wine?
Question 2: When will the Beer Store Act (the Liquor Control Act as amended) be proclaimed?
Question 3: When that happens what is to stop the Beer Store owners going to Court for breach of contract?
Question 4: If the Province negotiates with the Beer Store owners and decides to settle out of Court, what would that settlement look like?
Issue 2: As a matter of good government, Public Bills being considered by the Legislative Assembly should have a Committee Stage – unless there is some kind of emergency that makes that impossible.
Bills have committee stages to allow our MPPs to hear from and take evidence from the public and from those who might be directly affected by legislation.
Parliamentary Process and Procedure subverted
While in Opposition many Progressive Conservative MPPs complained about Parliamentary procedures being subverted in the rush to get Bills passed and on to the Statute Book.
With the Ford Government, there was, of course, no committee stage of the Beer Store Bill which barrelled through the legislature in double-quick time. Likewise there was no committee stage for the Bill which cut the size of Toronto City Council by half.
The Ford Government is considering big changes in the structure of municipal government and it would be lunacy to embark on an expensive and disruptive reorganisation of municipal government without hearing from the public first.
Question 5: Will any Bill to restructure municipal government have a Committee Stage whose duration reflects the complexity of the Bill's provisions?
Ding! Ding!
Time's up!
This email address is being protected from spambots. You need JavaScript enabled to view it.
Notes: The Beer Store owners may seek damages for breach of contract. But is this even possible given the nature of the legislation?
The Beer Store Bill states there is no remedy for the Government's breach of contract.
Yet the 2015 Master Framework Agreement negotiated and agreed between the Wynne Government and the brewers says this:
8.6 Remedies for Breach
(a) Any allegation of material breach of this Agreement (or with respect to Section 8.6(d), the Shareholders Agreement) shall be resolved pursuant to Sections 8.1 and 8.6, including the requirement in Section 8.1(b) of a Notice of Dispute. In determining whether such a material breach has occurred, an Arbitration Tribunal appointed pursuant to Section 8.1(d) and Schedule 8.1 shall treat all obligations in this Agreement, including post-termination obligations in Section 8.7, as binding and enforceable against the Province despite its status as the Crown, even where the alleged breach results from a change in legislation or public policy. (My underlining)
In late May 2019 (before the legislation passed the Legislature) the Beer Store President told the Globe and Mail:
"The government cannot extinguish our right to damages as outlined in the Master Framework Agreement."