Tomorrow the City of Toronto will commemorate the Danforth Tragedy that occurred on 22 July 2018.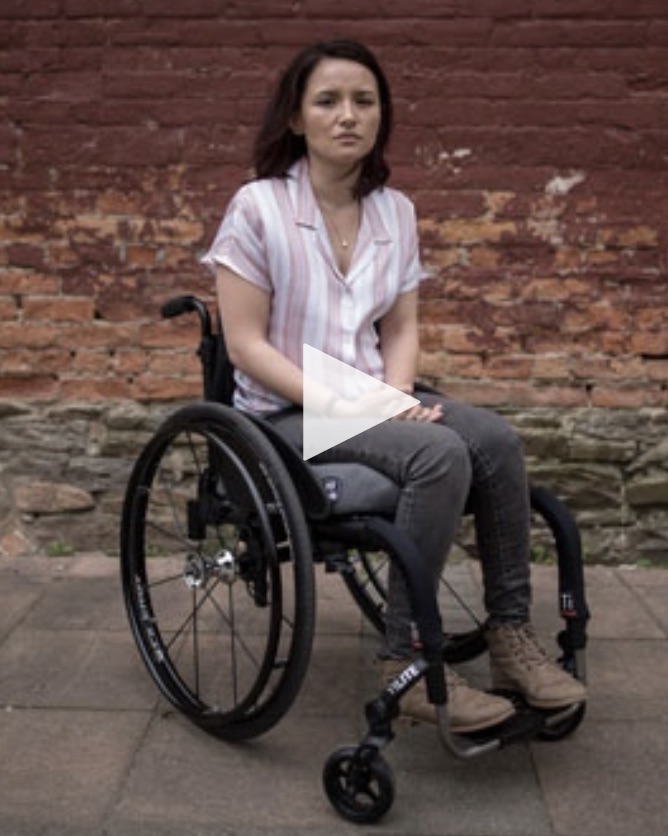 Two girls were killed by the gunman Faisal Hussain and 13 others left seriously wounded, many with life-changing injuries. Danielle Kane (right) was paralysed from the waist down and is now confined to a wheelchair.
The Federal Government has promised to tackle gun violence but its record so far has been truly lamentable. Three months after the Nova Scotia massacre we still don't know what kind of inquiry to expect. We hear the sound of silence.
Newmarket-Aurora MP, Tony Van Bynen, reverting to type, is mute. The most we can expect are platitudes on Twitter. And images of tartan scarves on doors.
No reply
I have written to the Public Safety Minister, Bill Blair, on four occasions about gun violence and not once have I received a reply nor even an acknowledgement.
Six months ago I asked Van Bynen, for his views on the Government's proposed ban on assault weapons. Municipalities were to be given powers to restrict or ban handguns in their own areas. An impractical and lunatic idea. He acknowledges my letter three months later, just after the Nova Scotia massacre, and says he has forwarded it to the Minister.
If nothing else, Van Bynen is a loyal foot-soldier. As a newly minted Liberal he is determined not to step out of line on handguns - even though he believes a ban makes sense.
Class action
I ask him to raise the issue of gun violence in the Liberal caucus and seek a meeting with Bill Blair. No reply. I ask him to table Parliamentary Questions on the number of people who had been left permanently disabled as a result of a handgun assault. No reply. I ask if he would support the class action lawsuit being brought by the victims of the Danforth shooting against the gun-maker Smith and Wesson. No reply.
Tomorrow would be the time to say something about Danforth.
But I am not holding my breath.
This email address is being protected from spambots. You need JavaScript enabled to view it.
During last October's federal election campaign Van Bynen told the voters:
"I believe that we should be banning handguns because they turn dangerous into deadly situations and we can't afford to have that happen… In my view, if you have a handgun, you're done."
Update on 23 July 2020: From the Toronto Star: Families of Danforth victims still hurting.
Update on 24 July 2020: From the Toronto Star: "Wholly insufficient" After waiting months, families of Nova Scotia shooting victims say a review panel that can't compel witnesses or make binding recommendations falls far short of the public inquiry they were seeking. From the Globe and Mail: Families upset over limits in review of N.S. mass shooting.
Update on 28 July 2020: From the Globe and Mail: Nova Scotia protestors continue to push for a public inquiry. (Van Bynen is silent on this.)
Update on 29 July 2020: From the Toronto Star: Federal Government concedes public inquiry into N.S. mass murder.