Details

Written by

Gordon Prentice
On Thursday (30 June) York Regional Council will formally approve "in principle" a Regional Transportation Master Plan (TMP) that is too timid for words.

Markham's Regional Councillor Jim Jones told the Region's top transportation planner, Brian Titherington, at a meeting earlier this month which considered the final draft:
"This presentation is heavy on roads. What about rail? What's the strategy there?"
Lowering expectations
The Transportation Master Plan deliberately sets out to lower expectations on when we can expect to see an all-day two-way 15-minute fast rail service in Newmarket and East Gwillimbury.
East Gwillimbury's population increased by a staggering 44.4% between 2016 and 2020 making it the fastest growing municipality in Canada. And this explosive growth is set to continue.
Only a fortnight ago, the Regional Council approved the release in East Gwillimbury of 1,730 acres (or 2.7 square miles) of so-called "Whitebelt" land for development.
Beat gridlock: build more highways
For the Ford Government the answer to gridlock is to build new highways and widen others. The Bradford bypass looks like a done deal but Highway 413 is subject to further review under the Federal Impact Assessment Act.
Billions are earmarked for highways that will fill up with traffic as soon as they are completed.
Yet decisions on road/rail grade separations - vital for an express train network - are left to the distant future.
Whether we get those grade separations - and the supporting analysis - is left to another day.
Road/rail grade separations
Last October the Acting Director of Transportation Services told members the draft TMP reduced:
"the number of road-rail grade separations to reflect the significant capital and operational costs"
But these road/rail separations are necessary if we are going to get a fast two way 15-minute service. Metrolinx says:
"Eliminating level crossings (where train tracks cross roads) will make the network better, faster and the region easier to travel in. There are two options when building a grade separation, tracks can either go under or over the road. By separating the road from the rails, vehicles can pass under (or over) a railway, without having to stop and wait for trains. Multiple grade separations are taking place across the network. Rail to rail grade separations are also needed, for much the same reason – to reduce traffic conflicts where train lines intersect."
Silent on the 15 minute trains to Bradford
The TMP claims to be a long-term plan which identifies the infrastructure and initiatives that are needed to support population and employment growth to 2051 yet it is silent on key commitments made by Metrolinx last August to run an all-day two-way 15-minute service to Bradford, north of Newmarket.
If Bradford gets a 15-minute service then so do we in Newmarket.
Instead, the Region's Director of Transportation, Infrastructure Planning and Public Works, Brian Titherington, limply says the new TMP "aligns" with the Province's transportation plan published in March this year and with the Metrolinx 2018 Plan which shows an all-day two-way 15-minute service running north from Aurora to Green Lane in 2041.
We can't wait until 2041.
Assumptions
The 15-minute commitment given by Metrolinx to East Gwillimbury Council ten months ago and repeated in numerous public statements since doesn't rate a mention in the Transportation Master Plan.
We don't know what assumptions Metrolinx made when they told East Gwillimbury Council on 12 August 2021 that they could run a 15-minute service to Bradford:
"thanks to further study and optimisation of service plans"
Why hasn't the Region's Director of Transportation asked Metrolinx to provide more details for inclusion in York Region's TMP?
Subject to further study
The draft TMP presented to members of the Regional Council on 11 November 2021 didn't even show a grade separation at Davis Drive in 2051.
Newmarket Mayor, John Taylor, picked up on this and asked for a re-think. The TMP was revised to meet his concerns and the latest version shows possible road/rail grade separations at Mulock Drive, Davis Drive and Green Lane but these are "subject to further study".
The Region and Metrolinx have been dancing around this issue for years. I've heard it all before.
A presentation on the future of the GO Rail station at the Tannery in Davis Drive in 2017 concluded that further studies were needed.
And here we are in 2022 and we are told yet again that further studies are needed. The can is always being kicked down the road, buying time.
Aligned with Province and Metrolinx
Titherington says the TMP is "aligned" with the plans put forward by the Province and Metrolinx
"while advocating for what York Region needs to support planned growth into the future from a transportation perspective".
Don't believe it.
We have been consulted to death on this Transportation Master Plan and yet, mysteriously, despite this, it down plays the importance of rail transit.
All for the sake of "alignment".
The TMP will now be circulated to the Region's constituent municipalities and comes back to Regional Council in September for final approval and adoption.
This email address is being protected from spambots. You need JavaScript enabled to view it.
Click "Read more" below the map to read Jim Jones's exchange with Brian Titherington.
Below: From the Metrolinx 2018 Plan showing the netwok in 2041: A fifteen minute service to Green Lane in East Gwillimbury.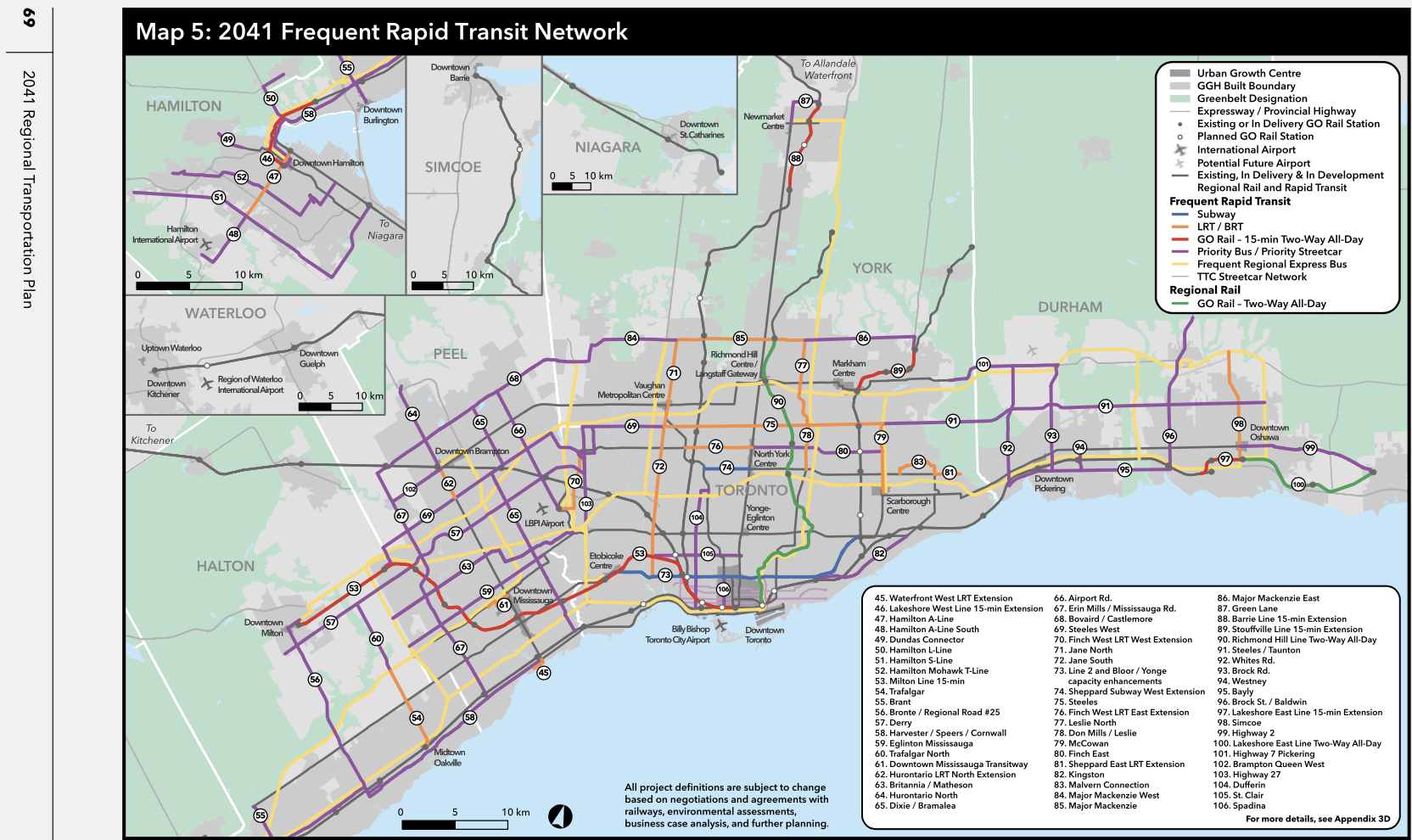 Read more: York Region's Transportation Master Plan: "Heavy on roads. What about rail?"
Details

Written by

Gordon Prentice
Last Thursday, Newmarket Mayor John Taylor, voted against endorsing York Region's Official Plan (ROP) which guides development over the next 30 years.
An angry Taylor said he had never voted against a budget or an official plan at local or regional level in 16 years as an elected official.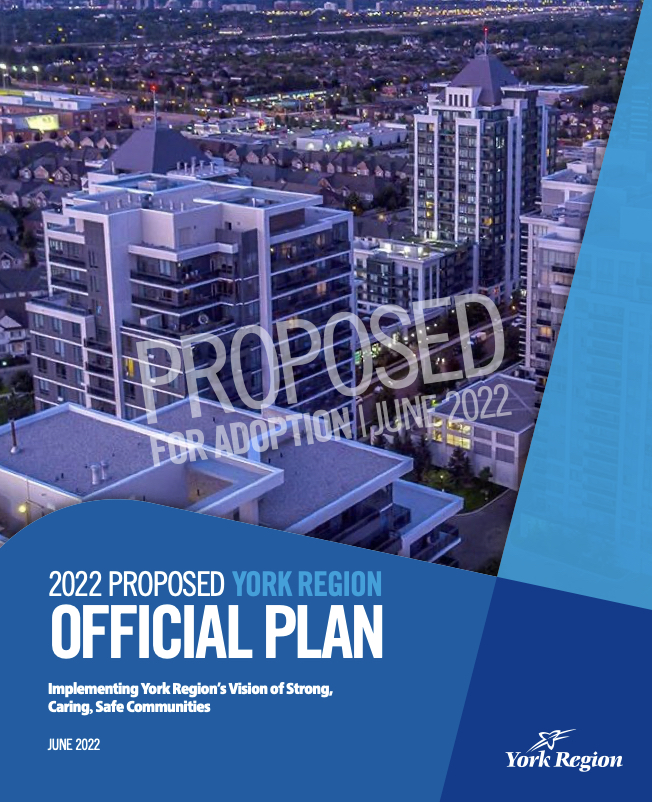 So this was a big deal.
Taylor warned his colleagues the Plan would encourage sprawl.
Regional Council ambushed with last-minute amendments
And he sharply criticized fellow members of York Regional Council for bringing large numbers of amendments forward at the last moment, precluding any detailed analysis or input from the regional staff.
"These significant amendments came forward largely with only a verbal explanation from a member of council. I cannot support this approach to planning. Some have even been brought back a second time to be expanded upon with still no written analysis. There are close to 20 employment land conversions not supported by staff and are largely unaccompanied by any analysis of any nature."
Although Taylor was careful not to name anyone in particular it is clear he had Markham's Mayor, Frank Scarpitti, and Vaughan's Maurizio Bevilacqua in his sights when he made the accusation.
Taylor believes the entire process has been subverted by the long list of pro-development eleventh-hour amendments to the plan.
Development will go to unserviced land, miles away from transit
Taylor told the meeting the Official Plan would open up 7,785 acres of land in the so-called Whitebelt for development. This land, which appears white in Growth Plan maps, lies between settlement areas and the Greenbelt and was seen as a reserve to accommodate growth in the long-term once existing settlements like Newmarket had been built-out with more intensive development.
The 7,785 acres identified by Taylor is about 12 square miles. The Town of Newmarket covers about 14.8 square miles. He told his colleagues they were choosing sprawl over intensification – and it was not sustainable, environmentally, socially or financially.
Taylor quoted a study in Ottawa which showed the costs of building infrastructure to service new developments in open country costs way more than within existing settlements. Taylor said the Hemson report showed:
"intensified forms of housing save a city about $600 per year, per unit. While new community housing or subdivisions cost the city around $450 per year per unit."
Flawed
Taylor said the final version of the Regional Official Plan was too flawed to get his support.
Newmarket's Deputy Mayor, Tom Vegh, who relies heavily on contributions from developers to fund his election campaigns, did not speak in the debate but voted to endorse the plan, complete with all the last-minute amendments.
The Regional Official Plan now goes to the Regional Council on 30 June 2022 for final approval.
This email address is being protected from spambots. You need JavaScript enabled to view it.
Read Taylor's speech by clicking below.
Read more: Taylor votes against York Region's Official Plan and slams colleagues for undermining the entire...
Details

Written by

Gordon Prentice
Boris Johnson is an inveterate liar.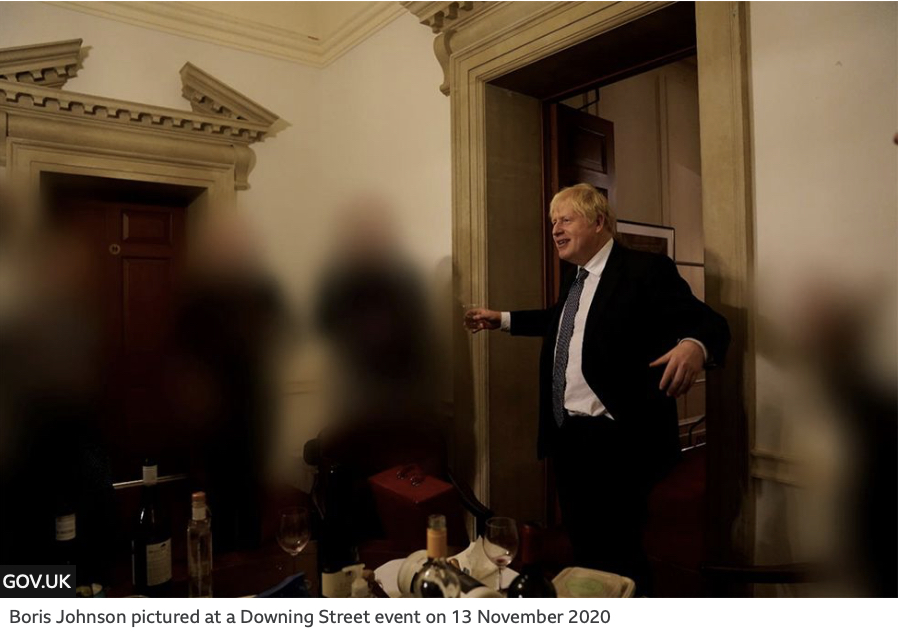 The people who know him best will testify to that. Fellow journalists from opposite ends of the political spectrum like the former Telegraph editor Max Hastings and the Observer's Andrew Rawnsley who says Johnson has vomited over standards in public life.
Hanging Offence
In our Westminster system it is a hanging offence deliberately to mislead Parliament. The Ministerial Code – ironically policed by Boris Johnson - requires Ministers to resign if they do so.
Lying through his teeth
Politicians have been known to mislead and dissemble. They can be economical with the truth. But a deliberate bare faced lie to Parliament trumps all other offences. Our system could not survive if lying became routine or normalised.
William Hague, who led the Conservative Party for over four years but never became Prime Minister, gives Boris Johnson zero chance of surviving. In an article in the Times of London yesterday he says of the 41% of the Conservative Parliamentary Party who voted against the Prime Minister:
"The nature of their revolt has an important bearing on what happens next. They are not a faction that has been seen off, or an alternative policy direction that has been defeated. They represent instead a widespread feeling, a collapse of faith, that almost certainly cannot be repaired or reversed. For Johnson, continuing to lead the party after such a revolt will prove to be unsustainable."
Rules flouted
For his part, Johnson denies that he broke any rules yet the evidence is incontrovertible.
A detailed report by the senior civil servant, Sue Gray, makes it clear the Covid rules in place at the time were flouted in 10 Downing Street. The BBC reports:
"Ms Gray gives details of 16 events between May 2020 and April 2021 that fell within her remit. Twelve of these were also investigated by police.
She says that "what took place at many of these gatherings and the way in which they developed was not in line with Covid guidance at the time".
Eighty three people who attended these events received fines as a result of the police investigation, including the prime minister and the chancellor of the exchequer."
Committee on Privileges
The House of Commons Privileges Committee is now examining whether the Prime Minister misled the Commons. The Committee will look at statements like these:
At Prime Minister's Questions on 1 December 2021 Boris Johnson said:
"all guidance was followed in No 10"
On 8 December 2021:
"I have been repeatedly assured since these allegations emerged that there was no party and that no Covid rules were broken."
and
"the guidance was followed at all times."
When the Committee reports Boris Johnson will be toast.
He can't stop lying. He can't help himself.
It's in his DNA.
This email address is being protected from spambots. You need JavaScript enabled to view it.
Update on 11 June 2022: see also Andrew Coyne in the Globe and Mail: "If Marco Mendocino misled Parliament he has to go."
Update on 12 June 2022: From the UK Observer's Andrew Rawnsley: Cabinet too spineless to act against Johnson
Update on 16 June 2022: From the UK Guardian: Ethics Adviser Quits
Update on 26 June 2022 from the UK's Observer: Andrew Rawnsley's take on the two by-election defeats suffered by Boris Johnson's Conservatives.
Update on 6 July 2022: Conservatives in meltdown. And what happens if Johnson resigns or is forced out. Also the Prime Minister at Parliament's Liaison Committee on 6 July 2022.
Details

Written by

Gordon Prentice
The result of yesterday's Provincial election in Newmarket-Aurora was never in any doubt.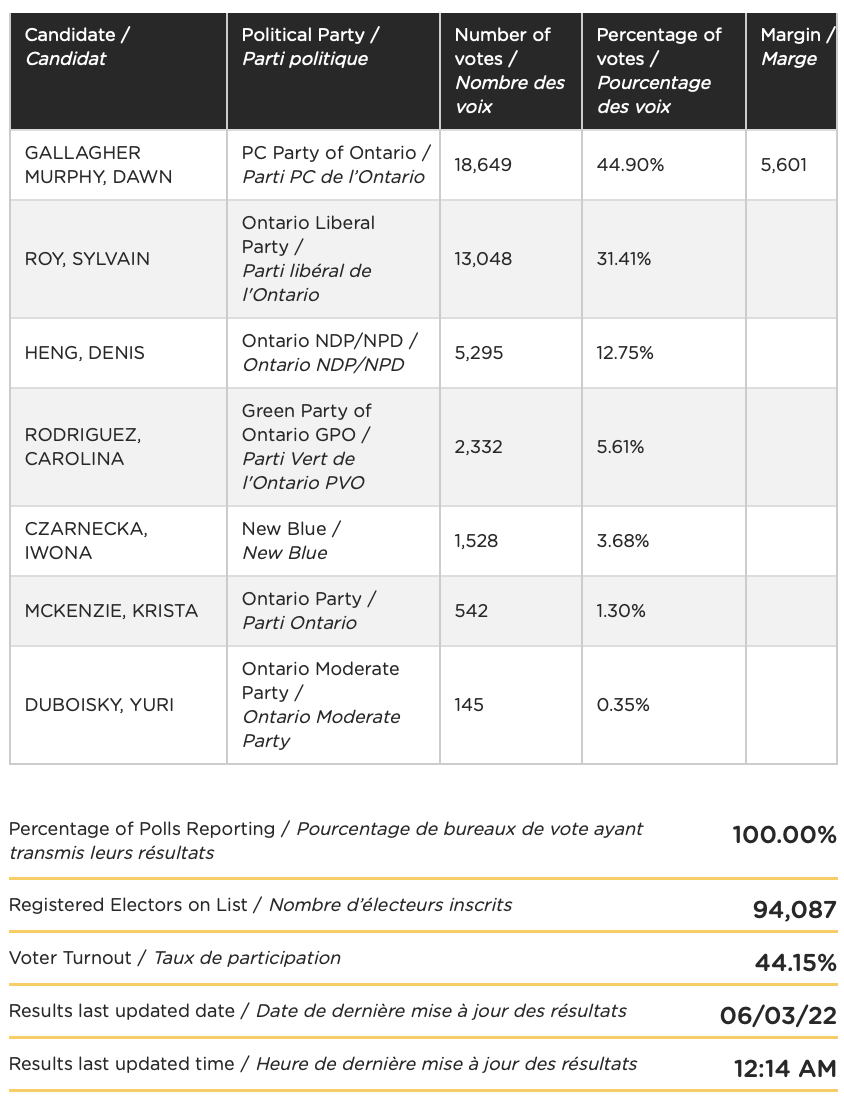 The PC candidate romped home with 45% of the votes cast despite a lacklustre campaign in which she boycotted candidates' debates and declined to give interviews to the media.
Turnout is lowest ever
The second big story of the election is the collapse in voter turnout. 57% of voters in Ontario couldn't be bothered to vote – the lowest turnout ever.
Only 44.1% of the Newmarket-Aurora electorate voted compared with 58.9% in 2018.
The low turnout skews the results. Those determined to vote tend, on the whole, to be Conservative leaning voters.
Liberals stretch lead over NDP
Comparisons with the last Provincial Election must come with caveats. The Liberals then were uniquely unpopular.
In 2018 we saw the NDP move into second place though only 565 votes ahead of the Liberals. Yesterday, the Liberal Sylvain Roy was 7,753 votes ahead of the NDP candidate Denis Heng. Both were impressive candidates but the so-called progressive vote coalesced around the Liberals.
The Greens did well this time with 5.6% of the vote (3.5% in 2018).
Ford's PCs refused to engage in debate and it was left to the other parties to fill the void – and here in Newmarket-Aurora they did so by agreeing with each other on many of the big issues. At the Newmarket Chamber of Commerce debate, all the candidates were against the Bradford Bypass so the sparks didn't fly. Gallagher Murphy, in favour, wasn't there to defend her position.
Resignations inevitable
It was inevitable that Andrea Horwath and Steven Del Duca should announce their resignations as Leaders of their parties last night. The prospect of Horwath staying on for a fifth election campaign in 2026 as NDP leader was never on the cards. Too many voters just tuned her out. They had heard her anecdotes from the campaign trail a million times before and they had become jarringly familiar.
Del Duca had some good policies but he never set the heather on fire.
His policy to ban handguns within a year of taking office and his "buck-a-ride" promise could have grabbed the voters' attention but didn't. Ford's licence plate rebate got a lot more coverage, for and against.
Making the political weather
Del Duca had to make the political weather and get noticed. But it never happened.
We shall see how Ford plays the hand the voters dealt him. Defensively, I hope. Both for his sake and ours. With such a solid majority he could do a lot of damage.
I shall be fascinated to see how my new MPP, Dawn Gallagher Murphy, settles into her new role.
Will she keep constituents waiting months for an appointment? Will she speak out on the big issues of the day? Or will she follow Ford's talking points, never daring to step out of line with the man who appointed her as PC candidate?
To have travelled so light so far is a remarkable achievement.
Saying nothing about anything is clearly a winning strategy.
This email address is being protected from spambots. You need JavaScript enabled to view it.
Update at 4pm on 3 June 2022: From Newmarket Today: Newmarket-Aurora reacts to Conservative win.
Update on 4 June 2022: From Newmarket Today: "Gallagher Murphy rides blue wave to victory in Newmarket-Aurora" From the Toronto Star editorial: "Parties share a lot of the blame for record low turnout" And from the Globe and Mail: "Record low turnout is not a good sign for our democracy."
Update on 7 June 2022: From the Globe and Mail editorial: Ford won the election by becoming a fiscal yes-man.
Update on 7 June 2022: In a video post on Twitter Dawn Gallagher Murphy thanks voters in Newmarket-Aurora for their support
And what happened last time: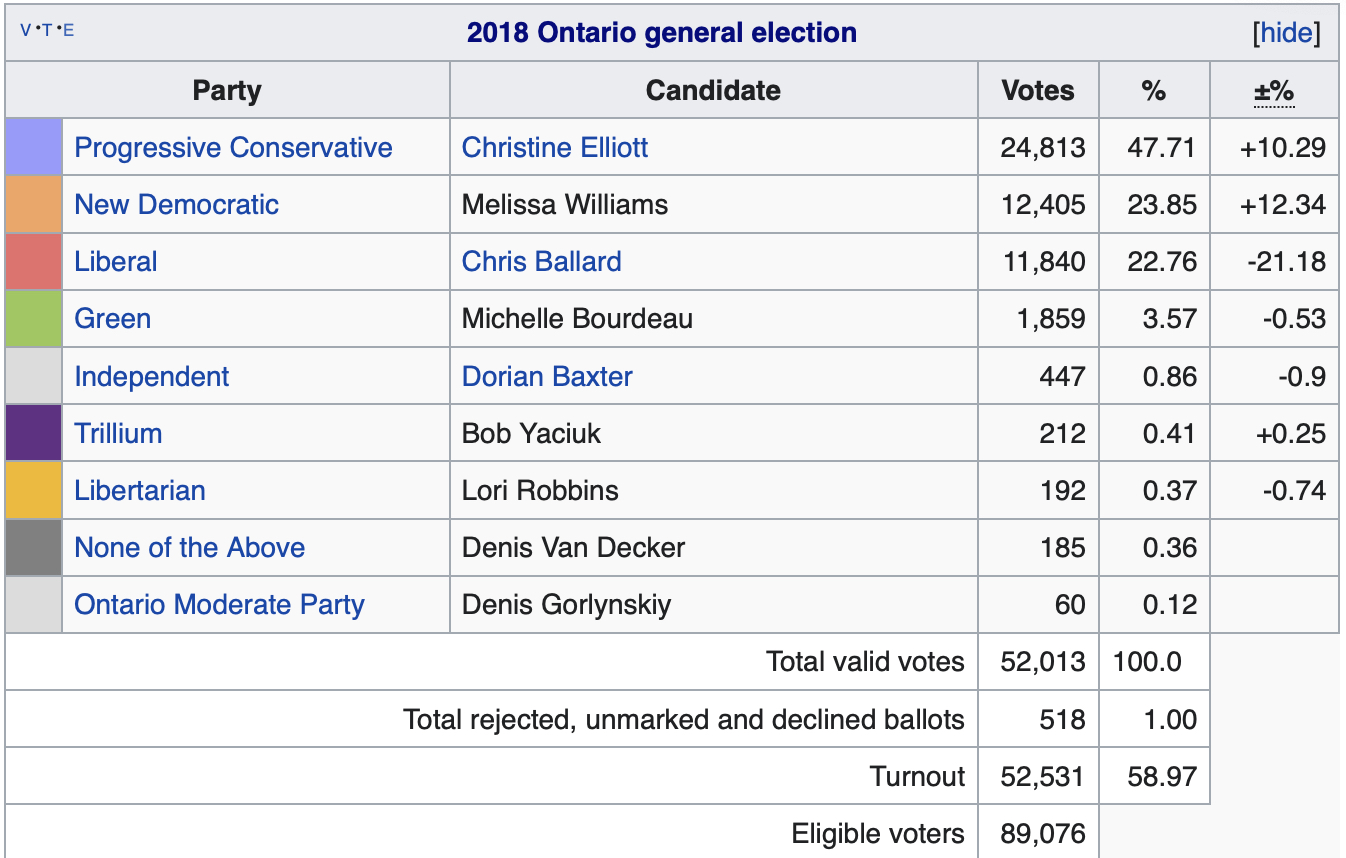 Details

Written by

Gordon Prentice
Doug Ford's appointee, the Progressive Conservative candidate, Dawn Gallagher Murphy, avoids the media to the very end.
My spies tell me CTV will be doing a profile of Newmarket-Aurora in their programme at 6pm this evening (Wednesday 1 June).
I have no idea how long or short the piece will be.
But our next MPP, the ventriloquist's dummy, office manager Dawn Gallagher Murphy, declined to be interviewed.
This email address is being protected from spambots. You need JavaScript enabled to view it.