Details

Written by

Gordon Prentice
The PC candidate for Newmarket-Aurora, Dawn Gallagher Murphy, was a no-show at this morning's "Provincial Election Event 2022" hosted by the Aurora Chamber of Commerce.
If we are to believe the polls, Dawn, handpicked by Doug Ford, will be our next MPP. So I was naturally disappointed that something kept her away.
I think we should be told what was more important than today's election event.
Dawn's A La Card Marketing and Consulting Services Limited which she founded in 2003 is based in Aurora. I don't see her A La Card in the Aurora Chamber of Commerce business directory but I'm sure it's in there somewhere. She will want to support her local Chamber of Commerce.
Silent and Shadowy
Until now, Christine Elliott's Office Manager has always been a silent and shadowy figure hovering in the background. But now she craves the limelight. (Photo right: Dawn handing out leaflets in Yonge Street, Aurora, before the 2018 Provincial Election)
I was keen to hear her make the case for the Progressive Conservatives and for Doug Ford, her patron, whom she idolizes.
The NDP's Denis Heng and the Liberal Party's Silvain Roy both put in solid performances as did the Green candidate, Carolina Rodriquez, but the format could be made more challenging.
The stiff, wooden, metronomic format doesn't do the candidates any favours.
Spontaneity
These "debates" need a bit more unpredictability and spontaneity if they are to grab the attention of the voting public and keep us all engaged.
The candidates should have the opportunity to quiz each other - with the moderator standing by to keep order.
And they need the front-runner to be there, taking on all-comers and showing us what she's made of.
This email address is being protected from spambots. You need JavaScript enabled to view it.
Update on 12 May 2022: Newmarket Today reports that Dawn Gallagher Murphy has declined to attend the Newmarket Chamber of Commerce election debate on 19 May 2022 due to a "scheduling conflict"
Below: at the 2019 Federal Election candidates' debate held at the St Andrew's Golf Club in Aurora. Green candidate Walter Bauer transfixes the audience, explaining the significance of the Climate Stick, while Dawn tucks into her omelette and bacon.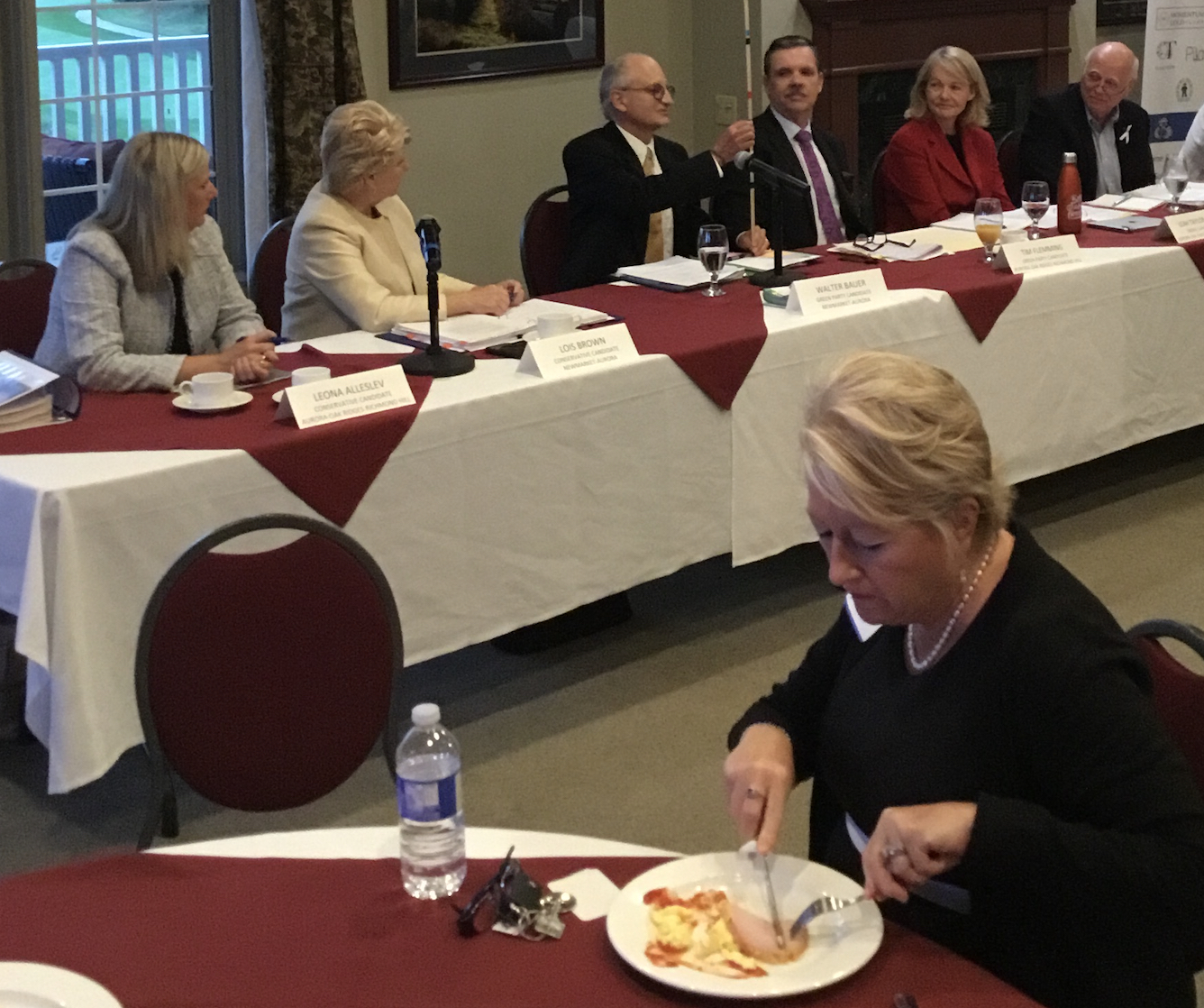 The result last time in 2018. Elections are snapshots in time. In the 2019 and 2021 Federal Elections in Newmarket-Aurora voters returned a Liberal MP.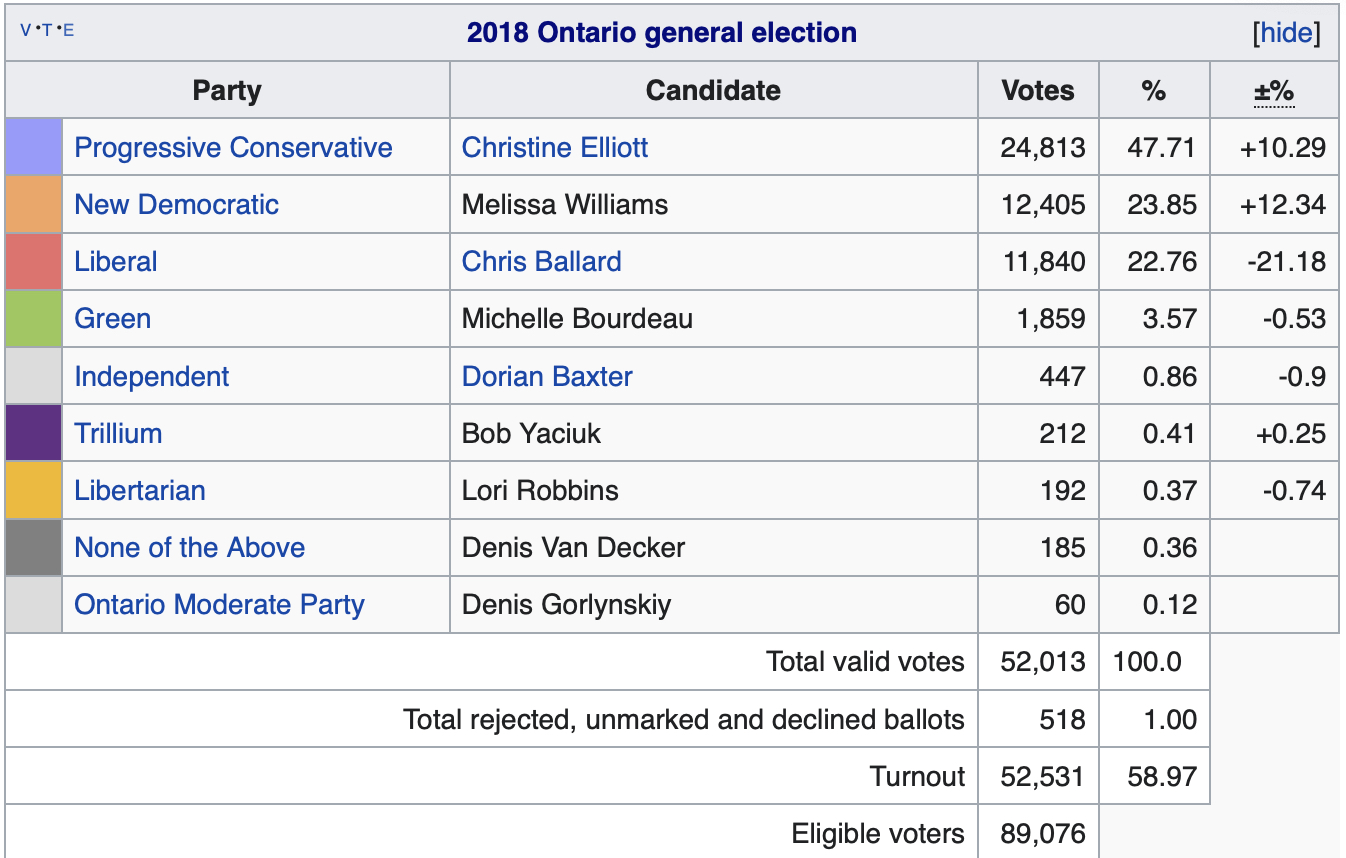 Details

Written by

Gordon Prentice
If we believe the pollsters it is all over bar the shouting in Newmarket-Aurora. The PCs are home and dry with odds of winning put at 83% - as projected yesterday by the polling aggregator Canada338.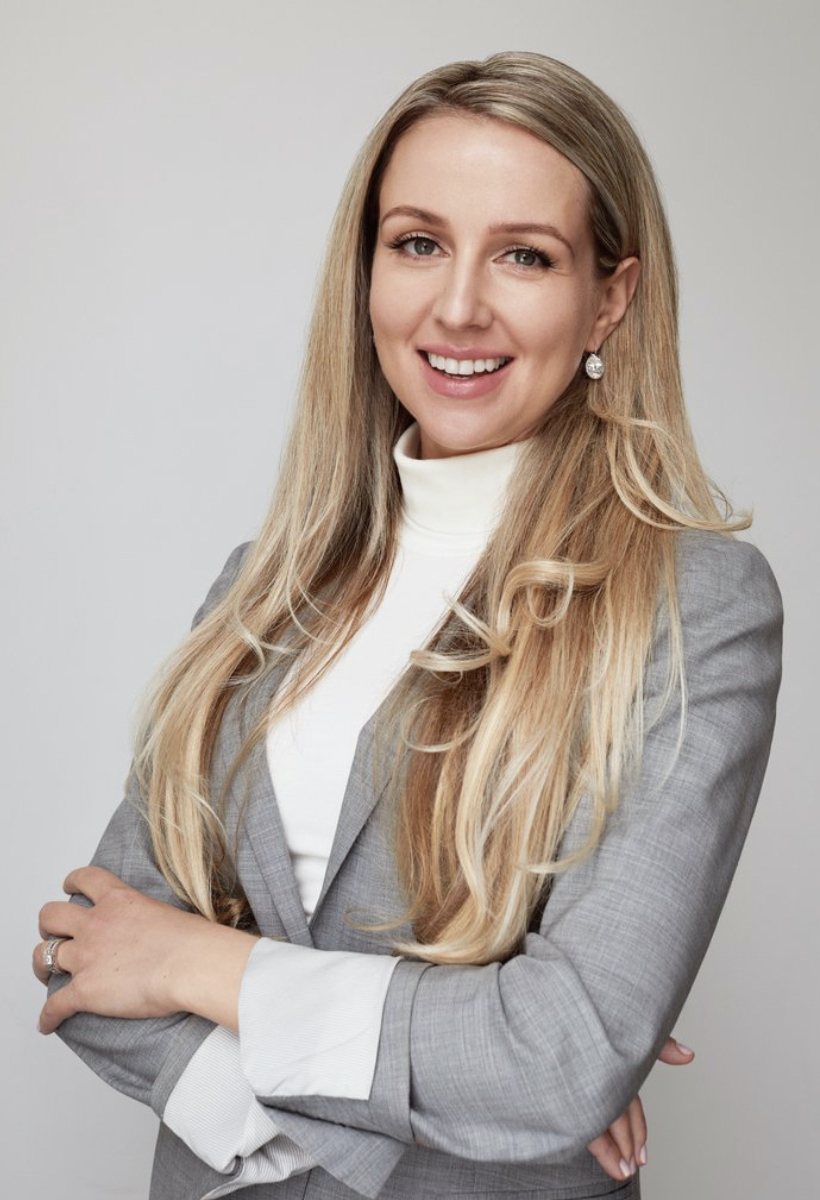 A new poll from Nanos Research gives the PCs a comfortable seven-point lead at the start of the campaign.
Dawn who?
If we believe this our new MPP will be Dawn Gallagher Murphy, hand-picked by Doug Ford as a thank you to Christine Elliott for services rendered. Dawn is Elliott's Office Manager but, other than that, we know very little about her.
Of course, a lot can happen during the campaign. In the last Provincial Election in 2018 no-one - let alone the pollsters - predicted the Liberals would be reduced to a rump of 7 MPPs.
No signs of love-in
The aim must be to stop Ford winning an overall majority of seats but that may be a tall order. The love-in between the Federal Liberals and Federal NDP has not been reciprocated by their provincial cousins who continue to bad mouth each other with accusations of broken promises and so on.
All the declared candidates so far are new faces, at least to me. The NDP's Denis Heng, an epidemiologist, is a member of Aurora's Community Advisory Committee. The Liberal's Sylvain Roy is a psychologist backed by former MPP Chris Ballard. The Greens are fielding Carolina Rodriguez, a university student. And, to the right of the PCs, we have the New Blues with Iwona Czarnecka. (Photo right)
Meet and Greet
All the candidates were selected very late in the day giving voters little chance to get to know them. But we shall soon have an opportunity to see the candidates in the flesh and get the measure of them. Do they have thought-through positions on the big issues of the day? Are they persuasive? Can they think on their feet? Are they personable? Do they have a track record? How do they use social media? Can they think for themselves or are they cyphers, mindlessly echoing the Party line on all issues?
The Aurora Chamber of Commerce is hosting a candidates debate on 11 May with the Aurora Public Library holding its own "meet the candidates" event on 12 May. A Kairos event is promised and there is another virtual event organised by the Ontario English Catholic Teachers' Association on May 17. I shall post details of others as they become known to me.
There will be two leaders' debates – in North Bay on 10 May and another in the TVO studios on 16 May.
This email address is being protected from spambots. You need JavaScript enabled to view it.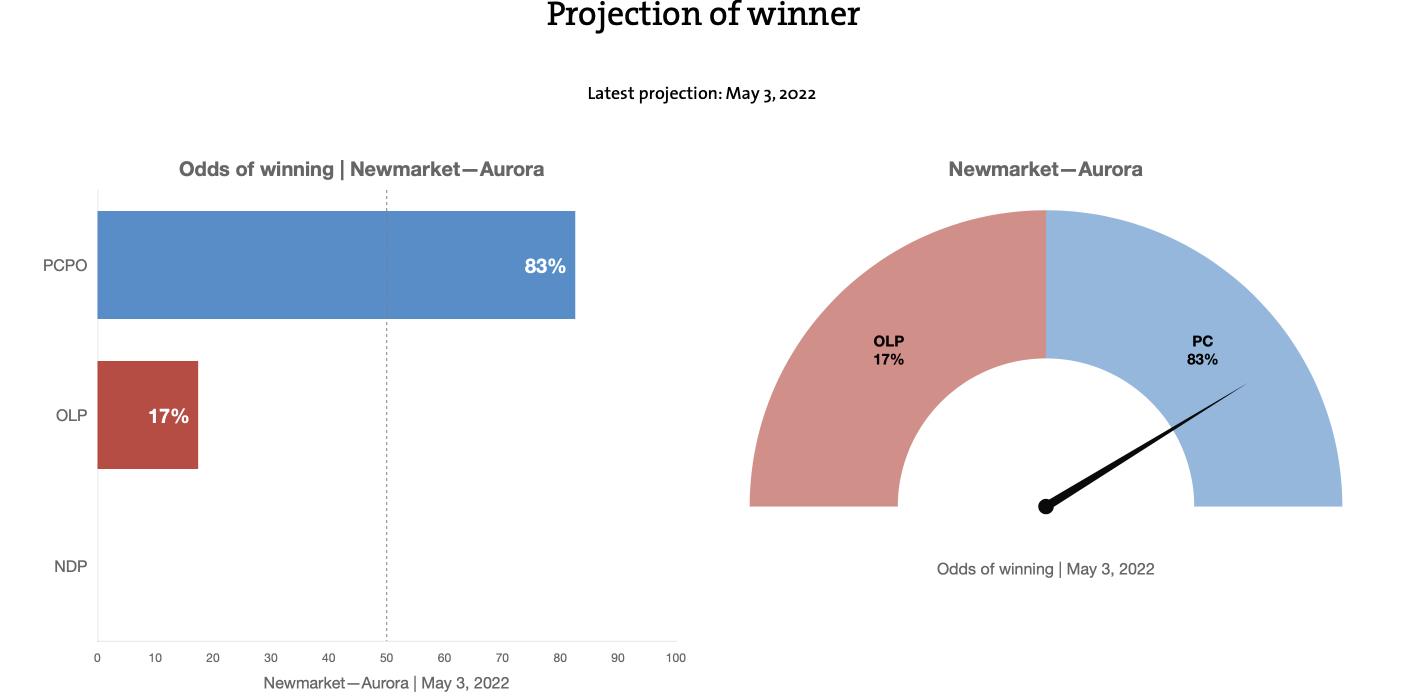 Update on 6 May 2022: Newmarket Chamber of Commerce debate from 6.30pm-9pm on 19 May 2022.
Details

Written by

Gordon Prentice
On December 14, 2021 the Town of Newmarket gave a tax receipt for $14,290,000 to the developer, Marianneville, in exchange for a "charitable donation" of 16 acres of land at Glenway West. (see plan below).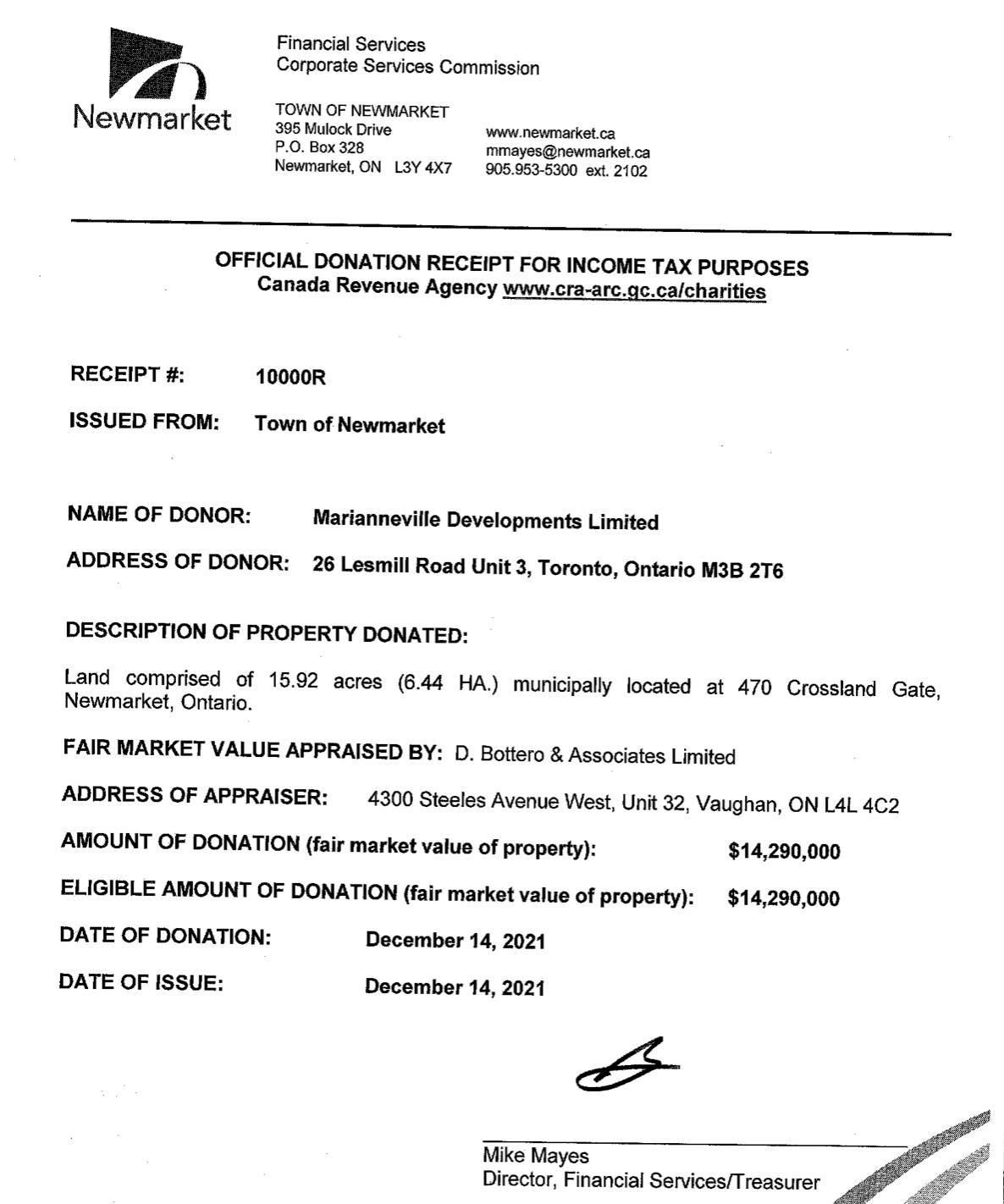 The land was professionally valued but the appraisal is a work of pure fiction.
The valuers landed on their Fair Market Value of $14.2M by making (in their own words) an "extraordinary assumption" that the two stormwater ponds in the donated land could be filled in and the land could be used for a townhouse development.
The Town did not challenge or query this but accepted the valuation report and its conclusions at face value when they were – and are - plainly invalid.
Inflated valuation
The tax receipt overstates the value of the land.
The "tax receipt" issue was touched upon by Kathryn Morton, a deputant to the Town's Committee of the Whole on 31 January 2022. She was assured that the issuing of the tax receipt to the developer came at no cost to the Town, direct or indirect. The Chief Financial Officer, Mike Mayes, explained:
"We issued a tax receipt. Actually it is a donation receipt that can be used for tax purposes. The cost was just basically the cost of printing off the piece of paper."
That is true. But there is, of course, a cost to the Canada Revenue Agency in the shape of foregone revenues. The tax receipt can be used by the developer to offset tax otherwise owing.
Pond 3 features in two different scenarios:
Scenario "A": Tomorrow, when councillors are considering giving draft approval for Marianneville's 189 unit development at Glenway West, Pond 3 will be part of the discussion. The stormwater pond which was included in the 16 acre charitable donation to the Town is an integral – though small – part of the infrastructure supporting the new development. Water will discharge from the development into Pond 3.
Scenario "B": On 14 December 2021, the Town gave a Tax Receipt to the same developer for $14,290,000 in exchange for a "charitable donation" of land. The Town did nothing to test the "extraordinary assumptions" of a warped Valuation Report which concluded that Pond 3 and its sister to the West could be filled-in and the land used for a townhouse development.
So, to be clear, Marianneville's new Glenway West development will discharge water into the same storm water pond that their own Valuation Report (commissioned jointly with the Town) says should be filled-in and developed for townhouses if at some stage the land is not required for public open space.
Discharge into stormwater ponds
The report before councillors says:
"storm flows from the proposed development will discharge to three existing stormwater management ponds"
Two of these ponds are owned by the developer. They will be reconstructed and conveyed to the Town. Pond 3, as we know, lies in the donated land.
No other stormwater ponds in the Glenway East or West developments have been filled in.
Compatibility
The staff report looks at the so-called "Compatibility Interface Plan" which is designed to ensure that new developments for infill and intensification fit in and are
"compatible with the existing physical character of the surrounding neighbourhood"
A stable residential neighbourhood wraps around the donated land on three sides. It is characterised by single detached houses. A townhouse development could not be shoehorned into the eastern two-thirds of the donated land without breaching the principles set out in the Compatibility Interface Plan.
I do not believe for one moment the Town's Director of Planning or its Director of Engineering would approve a townhouse development sitting on top of two filled-in stormwater ponds.
And I don't believe the ward councillor, Christina Bisanz, would approve either.
But the Town's senior management clearly believes the tax receipt comes at no cost to the Town and that's all that matters. If the developer gets undeserved millions through the tax system as the result of an artificially inflated land valuation, then so what?
They will look the other way.
This email address is being protected from spambots. You need JavaScript enabled to view it.
This note added on 3 May 2022: Pond 3 is known as Pond 13 in the Town's Comprehensive Stormwater Management Master Plan (2017). As explained in my earlier post, Pond 13 is a permanent wet pond providing water quantity and quality control. It has a design volume of 9,409 cubic metres. An Olympic size swimming pool holds about 2,500 cubic metres of water. The catchment area of pond 13 is almost 8 acres. Text also updated to make clear that Pond 3 is part of the infrastucture supporting the new development. Ponds 3, of course, lies outside the development itself.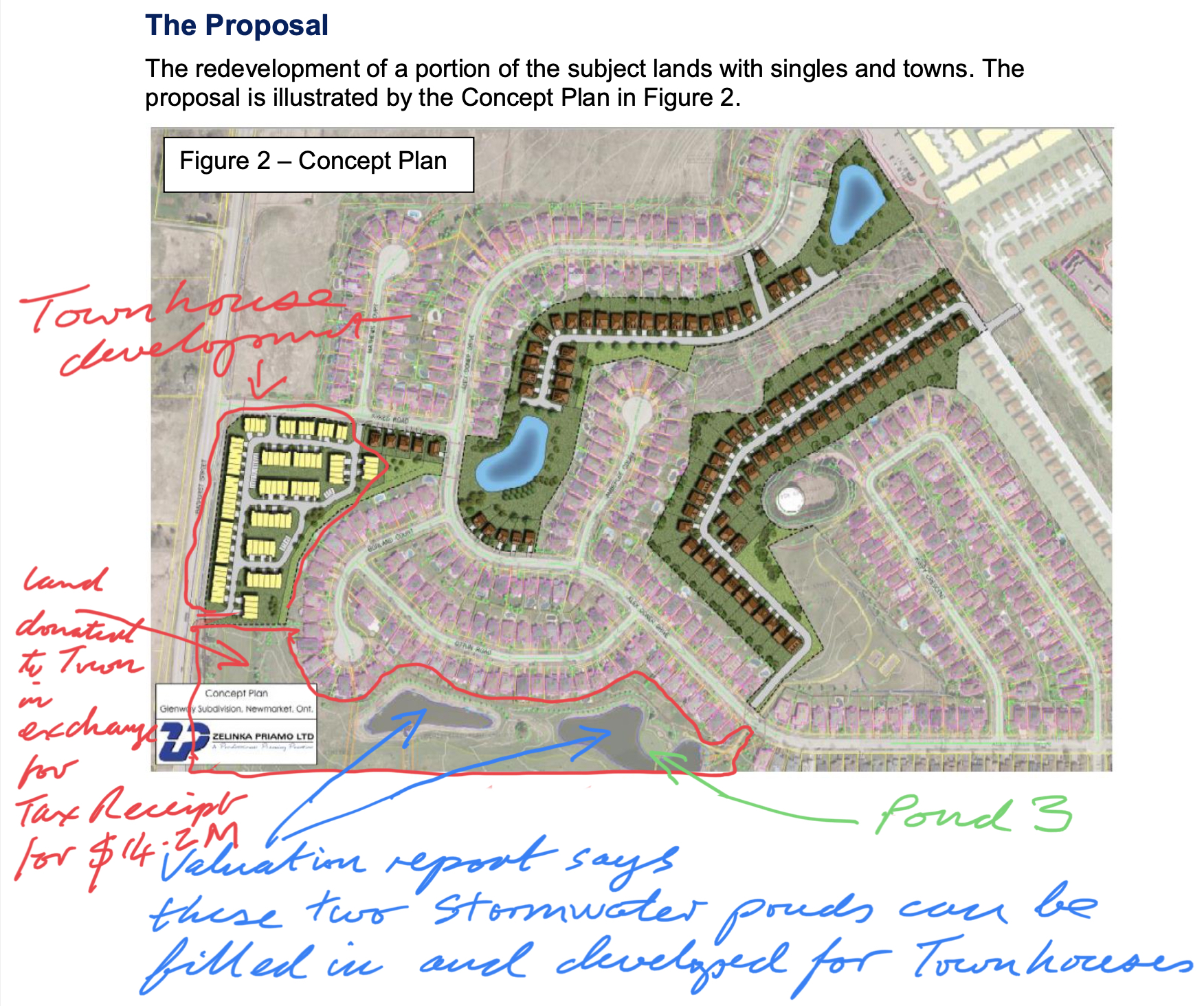 Details

Written by

Gordon Prentice
As a member of the UK's House of Lords Conrad Black is obliged to file a tax return with Her Majesty's Revenue and Customs every year even though he lives in Canada.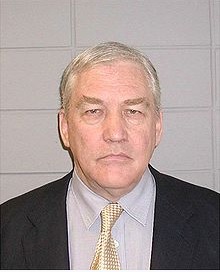 Black has been under this obligation for more than a decade – ever since the Constitutional Reform and Governance Act was passed into law in 2010 at a time when he was in jail in Florida.
So when Black's private wealth manager tells him that certain financial information is required because he is a member of the UK legislature he shouldn't huff and puff and rail against "obsessive transparency". He should grin and bear it and fill in his tax return like everyone else.
In his column in the National Post on 9 April 2022 he fumes:
"My bank's private wealth manager replies to my occasional questions with Job-like patience and exquisite courtesy that that information is required because I am a legislator, a member of the British House of Lords. There is no reason for legislators to be subjected to closer scrutiny than anyone else and in my case, I have not been a very active peer for many years (though that may change soon). There's nothing even slightly controversial about any financial activity of mine, but lurid official curiosity about it is annoying."
He goes on:
"It is no one else's rightful business what individuals or corporations do privately unless they are violating valid statutes or regulations. What we need is a fiscal equivalent of former prime minister Pierre Trudeau's famous statement that, "There's no place for the state in the bedrooms of the nation." Nor is there any place for it in the wallets or bank accounts of the nation, apart from what is needed to verify justifiable tax collection."
S41 of the Constitutional Reform and Governance Act 2010 is a valid statute and, as a member of the UK Parliament, Black must comply with its terms.
I think there is every reason for legislators to be subjected to close scrutiny by the tax authorities.
But I say that as someone with no criminal convictions under his belt.
This email address is being protected from spambots. You need JavaScript enabled to view it.
Details

Written by

Gordon Prentice
Candidate vetoed by the Liberals joins the NDP but so what?
What should we make of Shameela Shakeel's decision to leave the Liberal Party and join the Newmarket-Aurora NDP?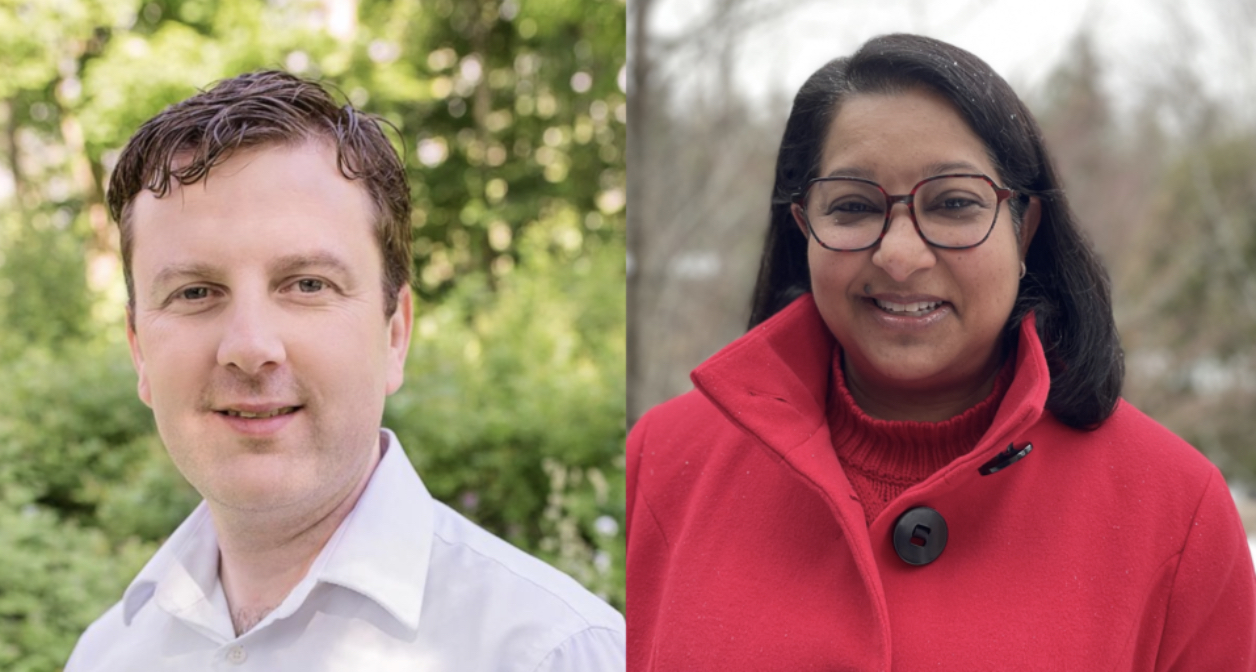 One moment she is the bright, new Parliamentary hopeful for the local Liberals, coasting towards the nomination and then a challenger, backed by former Liberal MPP Chris Ballard, appears out of nowhere. His unexpected arrival perplexes and disappoints Shakeel who tells Newmarket Today she would have preferred acclamation. She says she had spent months as the only prospective candidate.
Wrong candidate
Then, in a stunning reversal of her fortunes, the all-powerful Provincial Liberal HQ strikes her name off the list of approved nominees, declaring she no longer meets all the requirements to be a Liberal candidate. No reasons are given. Which requirements were not met? No-one speaks out publicly in her defence. Not even those timorous Liberals who initially supported her nomination. (Photo: Shameela Shakeel and her successful rival, Sylvain Roy)
Why didn't she stay to fight her corner inside the Liberal Party, demanding to know why she had been blackballed? Instead she meekly accepts the decision and decamps to a new home in the local NDP - as their campaign manager no less for the 2 June Provincial election. Seems to me she would have been more useful to the NDP if she had stayed inside the Liberal Party, rattling the bars of the cage and telling it as she sees it.
"Strong vetting"
This turn of events allows Newmarket-Aurora Provincial Liberal Association president Cathy Gapp to tell Newmarket Today that Shakeel's defection to the NDP
"reinforces for me how strong the Liberal vetting process is."
This is the same Cathy Gapp who persuaded Shakeel, a political neophyte, to make a pitch for the Liberal nomination in the first place.
Personally, I think this kind of cross-dressing encourages cynicism. People (unfairly) think all politicians – or aspiring politicians – are in it for themselves, changing their beliefs and their parties as often as they change their shirts.
Swapping parties is, of course, nothing new.
Winston Churchill
One of the most famous party-swappers was Winston Churchill who went from Conservative to Liberal to Independent to Constitutionalist and back again to Conservative.
Closer to home, in 2005 Newmarket-Aurora MP Belinda Stronach left the Conservatives to join Paul Martin's Liberal Cabinet. In 2018 the Aurora Oak-Ridges-Richmond Hill MP Leona Alleslev left the Liberal Party to join the Conservatives. She lost her seat at the 2021 Federal election and, incredibly, is now running for leader of the Conservative Party. (She must figure this will give her a profile because she is not going to win.)
There is, of course, a long-standing convention that members of Parliament who change their allegiance are not obliged to resign their seats and fight a by-election under their new colours. MPs are regarded as representatives rather than delegates and between elections they are free to act according to their own beliefs.
Products of the Party system
These days, that seems to me very quaint. Our politicians are, almost universally, products of the Party system – vetted, approved and often selected by the central Party machine, and sometimes by the Party Leaders. True independents are few and far between.
Of course, we live in a free country and people can swap parties if they want to (and if their new party will have them).
But will Shameela Shakeel's defection to the NDP help their campaign?
I rather doubt it.
No-one will notice.
This email address is being protected from spambots. You need JavaScript enabled to view it.
Here in Newmarket-Aurora we shall see a candidate in June from the zany New Blue Party of Ontario, a spin-off from the Progressive Conservatives, founded by former Conservative MPP Belinda Karahalios and her husband Jim. She was removed from the Conservative caucus for voting against Bill 195 which kept various Covid-19 safeguards in place.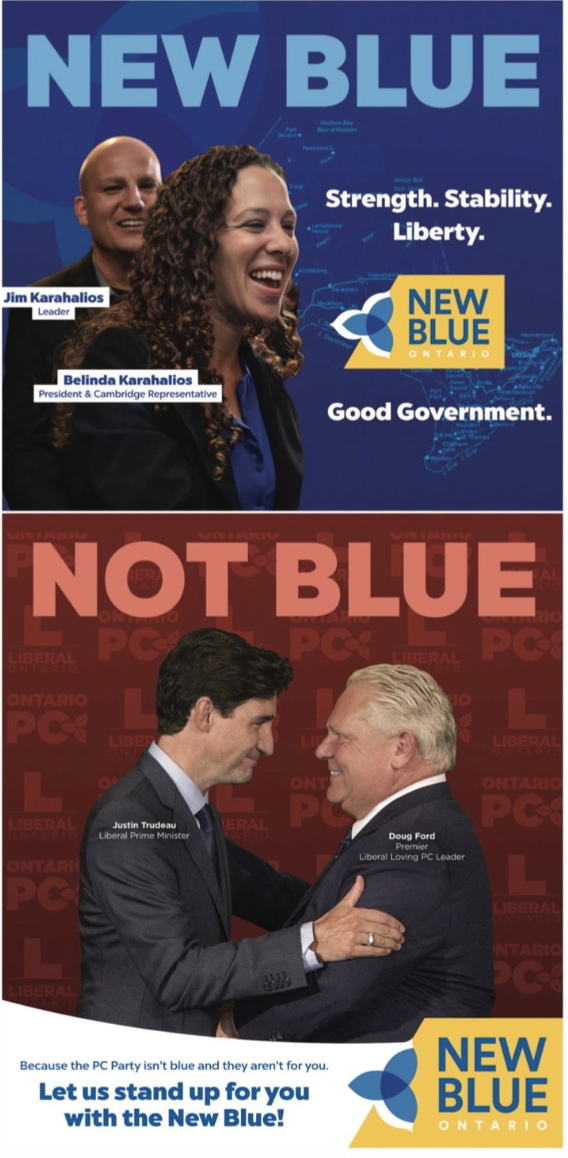 Update on 29 April 2022: From the Toronto Sun: Shameela Shakeel was a volunteer and is no longer part of the NDP team
Update on 30 April 2022: From Newmarket Today: NDP boots Shameela Shakeel