Details

Written by

Gordon Prentice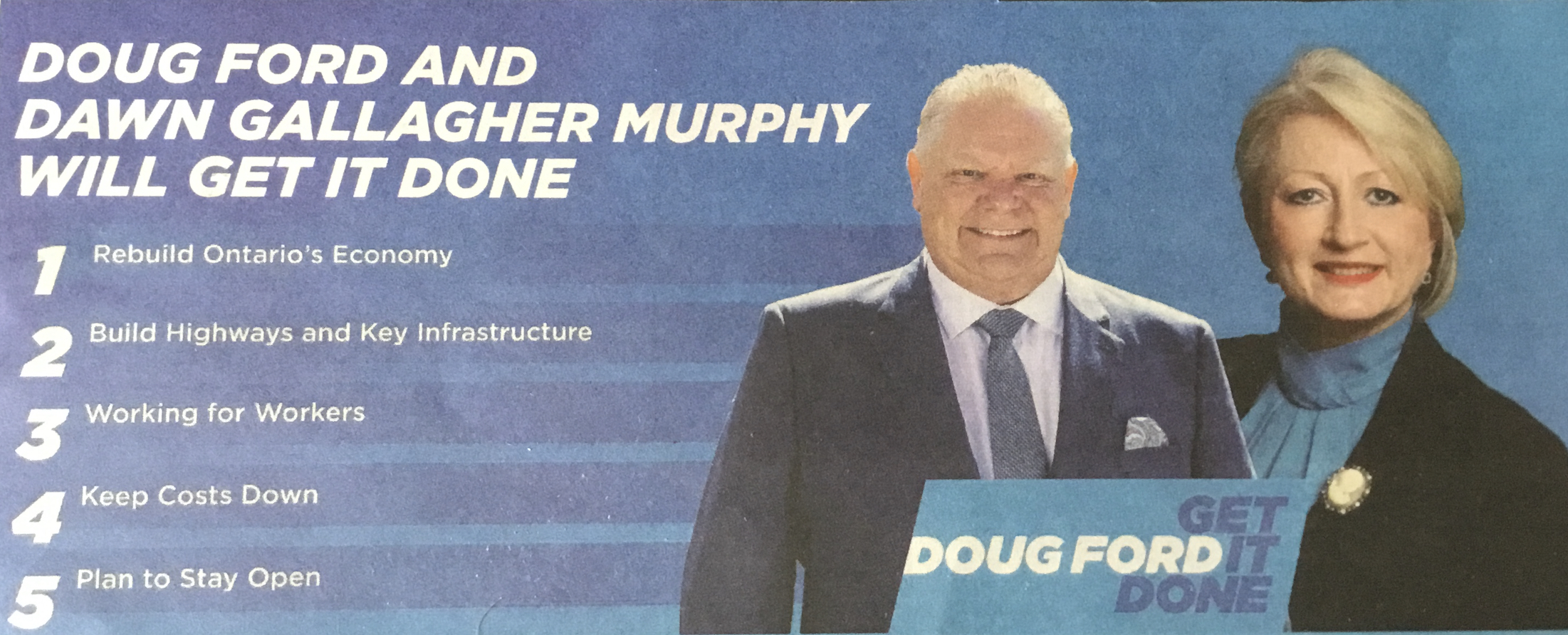 Above: From this week's Era Newspaper.
Deficits and Debt
For as long as anyone can remember former Newmarket-Aurora MPP, Christine Elliott, has made a very big deal about Provincial deficits and debt. They've featured in countless speeches.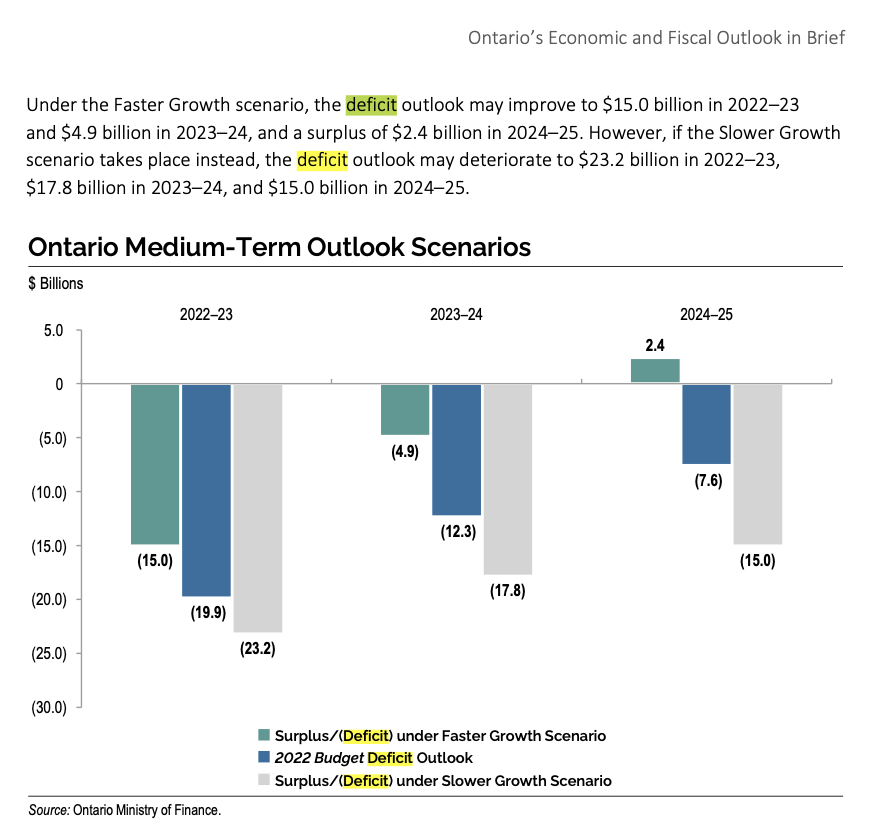 In her winter newsletter in 2019 (see below) she said the new Ford Government was addressing the fiscal challenges they inherited from the Liberals – notably the $15B debt (sic).
(In fact, she meant the annual deficit which is a mere fraction of the Provincial debt which has accumulated over decades. A deficit occurs when the Province spends more than it gets in revenues.)
$19.8 billion
The deficit for 2022/23 is expected to be $19.8 billion but it could be as much as $23.2 billion or a more modest $15 billion depending on what happens to the economy.
Spending on programs (eg health, education, children and social services, justice and so on) is expected to rise from $169 billion (including Covid 19 time limited funding of $19.1 billion) in 2020/21 to $188.1 billion in 2024/5.
Interest on debt is forecast to rise from $12.3 billion in 2020/21 to $14.9 billion in 2024/5.
Going for Broke
Ford has thrown all the old Conservative shibboleths overboard. He loves to be loved and he is going for broke.
Buck-a-beer now wants to spend more on everything.
Not just on Covid.
Gallagher Murphy will get it done!
Christine Elliott's office manager and PC candidate for Newmarket-Aurora, Dawn Gallagher Murphy, is straining at the leash to spend.
But how does this square with the long-held views of her former employer, friend and mentor, Christine Elliott?
Has Dawn asked Christine if deficits matter anymore?
Anathema
On 27 October 2008 Elliott told the Legislative Assembly:
"deficit financing is anathema to Conservatives"
because running a deficit
"means that we are paying more and more in interest payments"
By 2011 Elliott was complaining that the Liberals had racked up a
debt of over $17,000 each for every man, woman and child in Ontario. That's serious. It's something we need to get a hold of.
Ontario is broke
She said:
"There's no money to spend. Ontario's broke right now. We need to get this under control, and it's not likely that it's going to happen under this government."
The Ford/Elliott Government has increased the net debt for every man, woman and child in Ontario to $25,334 in 2020/21 rising to $28,334 in 2022/23.
I am left wondering if Dawn Gallagher Murphy has a view.
Probably not.
This email address is being protected from spambots. You need JavaScript enabled to view it.
Postscript: Should we believe Ford's forecasts?
Ford's Budget shows house prices rose 54% in the two years from February 2020 to February 2022. The same budget predicts house prices will rise 9.5% this year.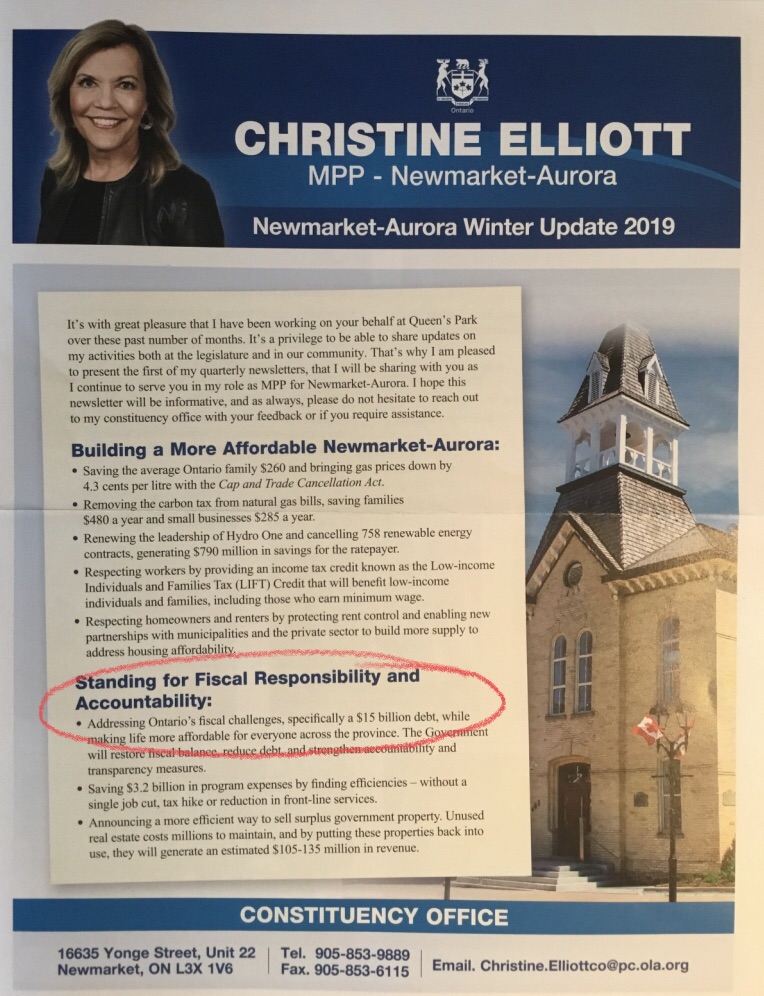 Details

Written by

Gordon Prentice
The latest clutch of polls tells us the lightweight PC candidate for Newmarket-Aurora, Dawn Gallagher Murphy, is likely to be our next MPP.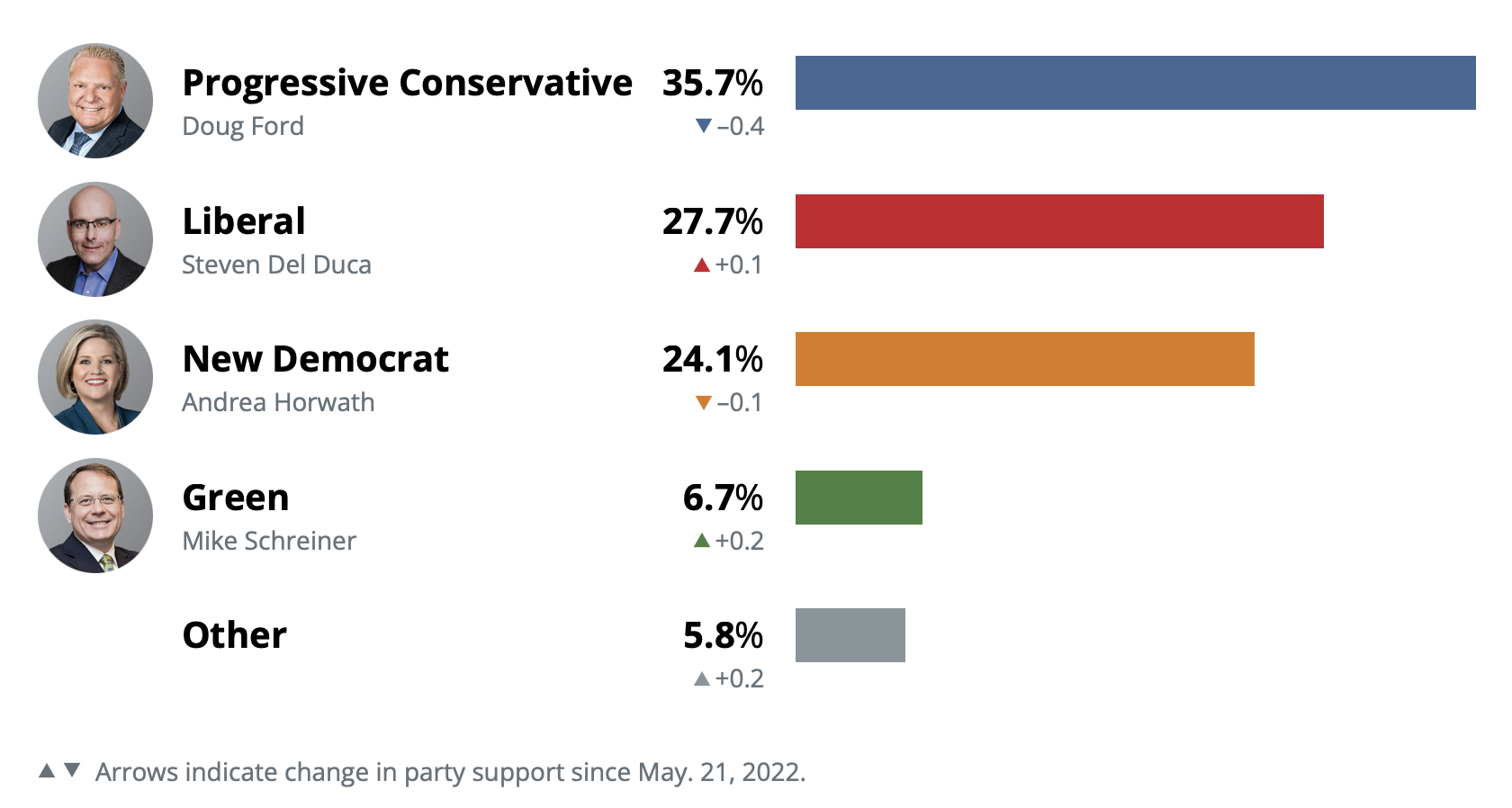 I don't know whether to laugh or cry.
She brazenly tells us she and her team have knocked on 20,000 doors – a porky if I've ever heard one – but can't find the time to show her face at any of the candidates' debates.
Instead the office manager invents diary clashes which keep her away from important election debates – organised by the two local Chambers of Commerce no less.
She refuses to tell the local press how she came to be the Official PC candidate, claiming it is an internal matter.
Never apologise
She is never going to apologise for any of this.
She has learned from her friend and mentor, Christine Elliott, who told the Legislative Assembly in 2008
"… my basic training as a lawyer has conditioned me that this is not a good thing to do (apologise). As lawyers, we are trained to protect our clients, to act in their best interests and not to have them say or do anything that might jeopardize their position."
This applies to Gallagher Murphy in spades.
Stick with platitudes. Stay on message.
And say nothing original or controversial or remotely interesting and you are home and dry.
Why do people put up with this?
As I tap this out I have in front of me an old lapel badge from a long-forgotten political campaign.
"If you're not outraged you're not paying attention."
This email address is being protected from spambots. You need JavaScript enabled to view it.
Note: There are no polls specific to Newmarket-Aurora. The predictions for individual ridings are extrapolations from province-wide and region-wide data.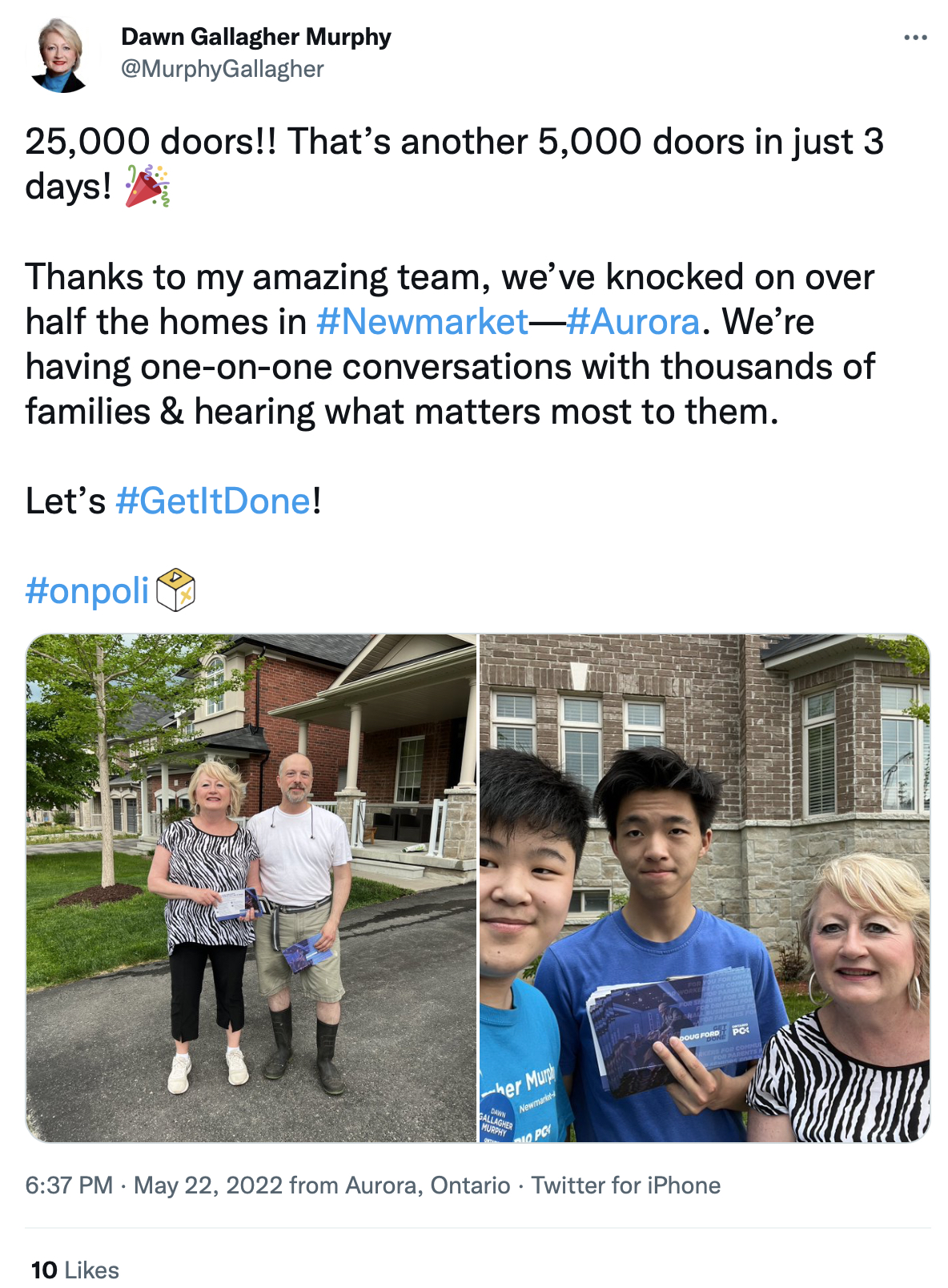 Details

Written by

Gordon Prentice
All over the Province PC candidates have been boycotting election debates.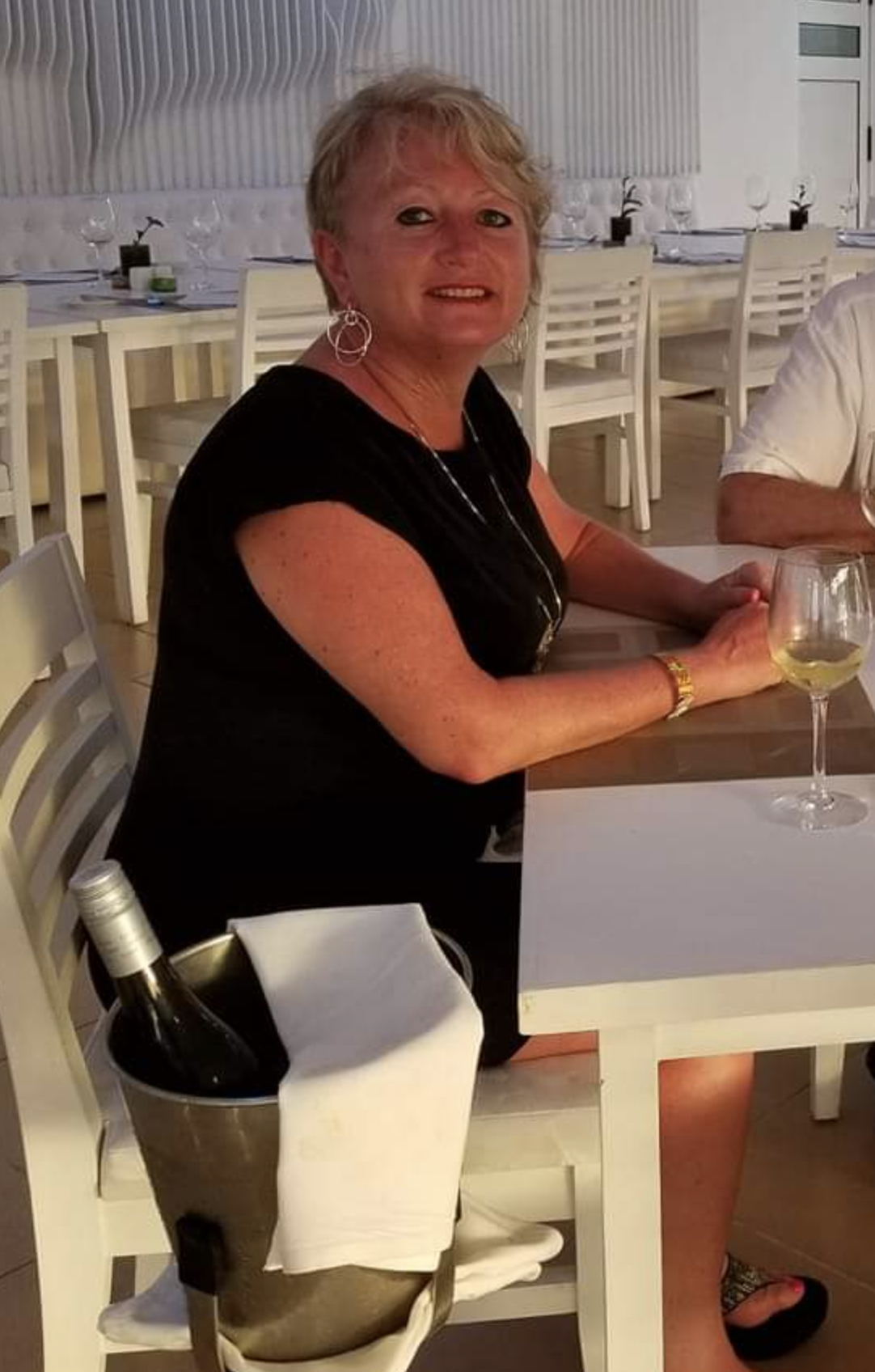 Personally, I think this is an absolute disgrace and candidates like office manager Dawn Gallagher Murphy should be spit-roasted by the local media.
The humiliation could start tonight at the Newmarket Chamber of Commerce debate when an empty chair should be placed on the stage, perhaps with a carboard cut-out of Dawn Gallagher Murphy placed on top. I think the photo from her Facebook page (right) would fit the bill nicely.
Instead of debating the issues with the other candidates, she posts toe-curling juvenile Tweets telling us she was up at the crack of dawn this morning to have "great conversations with commuters" and getting "to engage with them one-on-one".
Why does she insult our intelligence in this way?
Why can't she have great conversations with the other candidates in Newmarket-Aurora?
And what about these one-on-ones with commuters? What did she talk about? The deficit?
Empty Chair
I recall Lois Brown was a no-show at the candidates' debate at the Old Town Hall back in the 2019 Federal Election. Fat lot of good it did her when she subsequently lost to the bland, low-energy Tony Van Bynen.
Impishly, the organisers had left an empty chair for Lois and, an hour into the event, the NDP candidate, Yvonne Kelly, gets a laugh when she points to the chair and asks the moderator:
"Is it OK if I put my purse here."
"I guess Lois isn't coming."
Tonight's election debate, jointly organised by the Newmarket Chamber of Commerce with Newmarket Today and the Era, takes place from 6:30 to 9 p.m. May 19 at the New Roads Performing Arts Centre (former Newmarket theatre), 505 Pickering Cres. (at Newmarket High School, near Mulock and College Manor drives).
This email address is being protected from spambots. You need JavaScript enabled to view it.
Update on 20 May 2022 from Newmarket Today: candidates are cordial
Update on 21 May 2022: The Editorial of the Toronto Star: Ontario's Progressive Conservatives are ducking local debates. It's a disservice to democracy.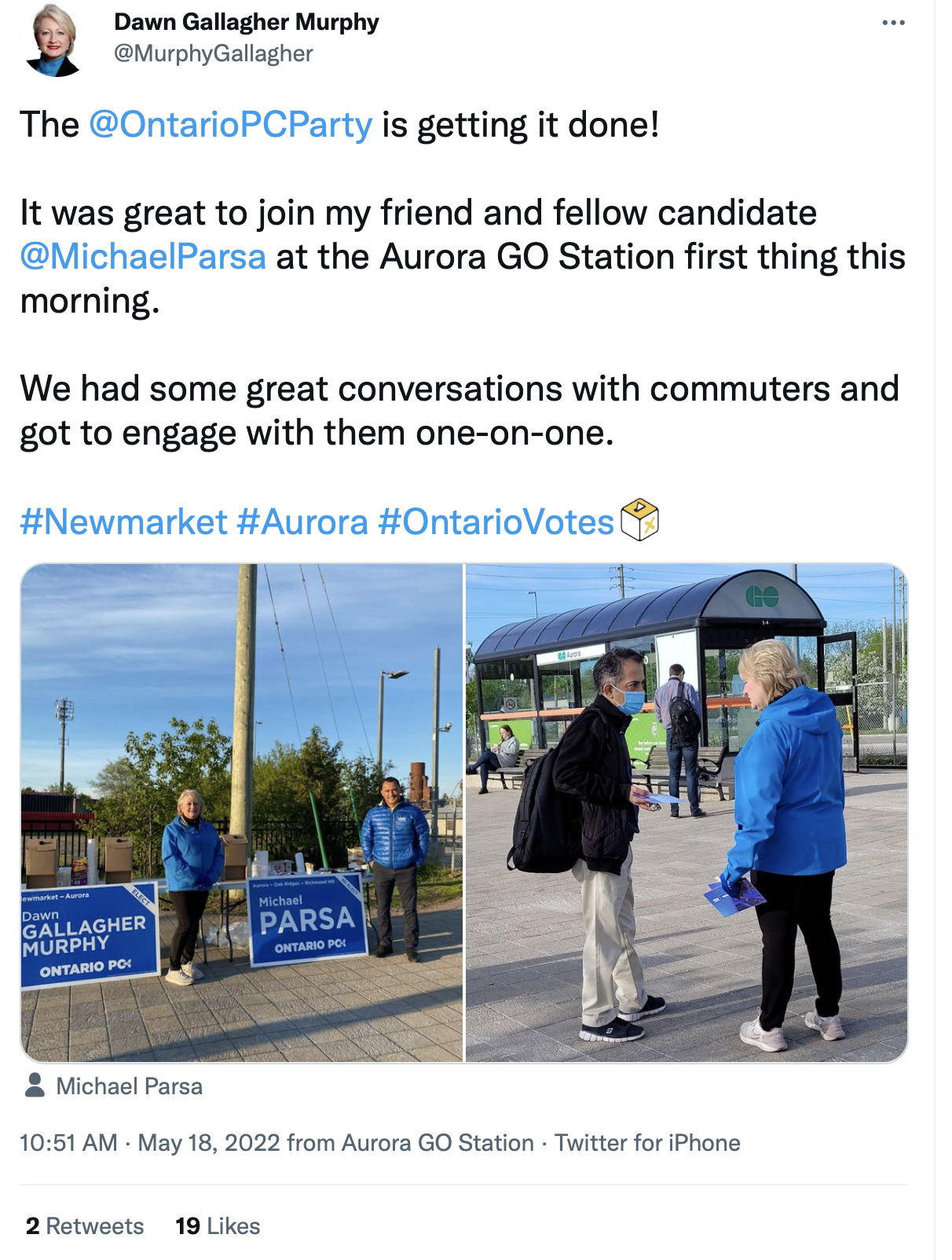 Details

Written by

Gordon Prentice
Background: When Christine Elliott announced she would not be seeking re-election, Doug Ford immediately appointed her office manager, Dawn Gallagher Murphy, to replace her as the official PC candidate in Newmarket-Aurora. The PC riding association was completely excluded from the decision and its President, Bill Hogg, resigned in protest. Gallagher Murphy, who describes Christine Elliott as her friend and mentor, has boycotted all election debates.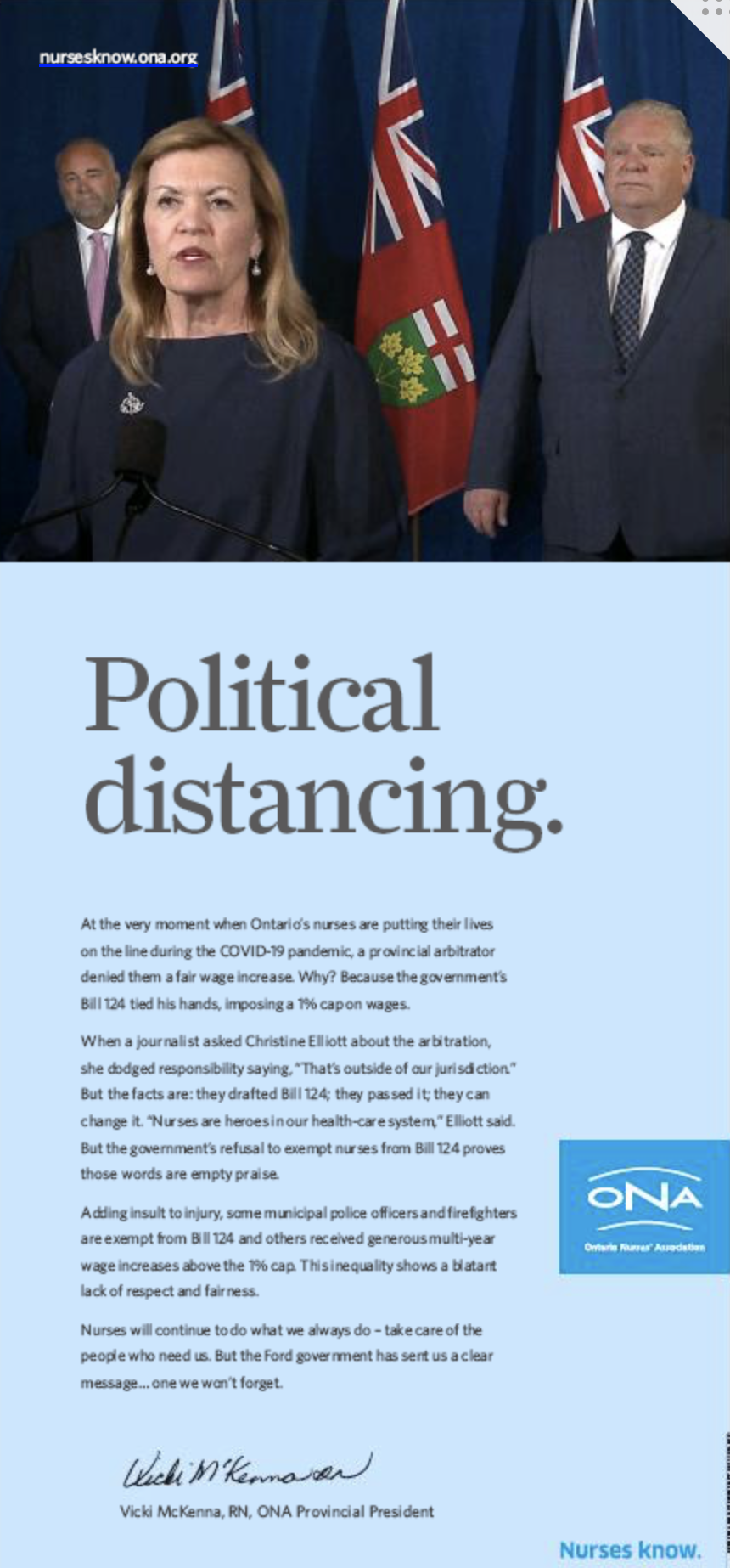 "Number one priority"
Dawn Gallagher Murphy, says Southlake will be her number one priority if, as the polls predict, the office manager becomes our next MPP.
She told Newmarket Today on 11 April 2022 she is passionate about Southlake and
"wants to advocate for the hospital".
As proof of her commitment she cites the Nature's Emporium Run for Southlake in 2019. She says she led the team.
Her passion for Southlake is skin deep.
When Southlake nurses asked for a meeting with their MPP, Christine Elliott, they were ignored. Would Dawn Murphy Gallagher MPP meet the nurses if asked? Or would she give them a wide berth?
Cutting nurses' pay the Christine Elliott way
Did Gallagher Murphy agree with Elliott's decision to cap nurses' pay at 1% - falsely blaming the independent adjudicator? (see panel right)
Or does Gallagher Murphy now believe the nurses were short-changed?
And what about the unsafe practices at Southlake? Any qualms?
Was she concerned that Southlake cut the number of nurses during the pandemic as the hospital struggled to balance the books?
To find out what the nurses really feel about Christine Elliott and the PC Government you need only visit the Ontario Nurses Association website.
Southlake got a "one off" cash injection in June last year but the Treasurer, Steve Hills, warned Board members that, despite the extra funding from the Ministry of Health, the hospital would be back in deficit in 2022. Does she have any lingering concerns about the hospital's finances?
Gagging critics
Last year, the Ford Government changed the rules to limit the amount of money that trade unions, charities and other organisations could spend on political advertising in the year before a Provincial general election. Ford relied on the now notorious "notwithstanding clause" to ensure the law could not be challenged in the Courts.
As a result, the amount of money third parties can spend on political advertising during the election campaign itself is severely circumscribed - $4,364 in a single riding and a total spending cap across the entire Province of $109,100. That doesn't buy a lot of airtime.
The law (fortunately) still allows the Ontario Nurses Association and other organisations like it to use their own websites and social media to get the message across.
Planning for new hospitals everywhere
There has been much talk of a new Southlake as if it is just around the corner. Gallagher Murphy celebrates the $5m the Province gave to Southlake to help it work up its plans. This template formula (a few million dollars to work up plans) has been used by the Ford Government in any number of places as "evidence" that new hospitals are on the way.
An announcement on 3 May told us there's $6M to with the planning of Stevenson Memorial Hospital in Simcoe County. On the same day we learn $5M is being earmarked to support planning at Sunnybrook. On 22 April it was the turn of Uxbridge who are getting $2.5M to help their planning. The day before, Waterloo gets $5M to help develop planning.
Before the election there's money for everything.
Until there isn't.
This email address is being protected from spambots. You need JavaScript enabled to view it.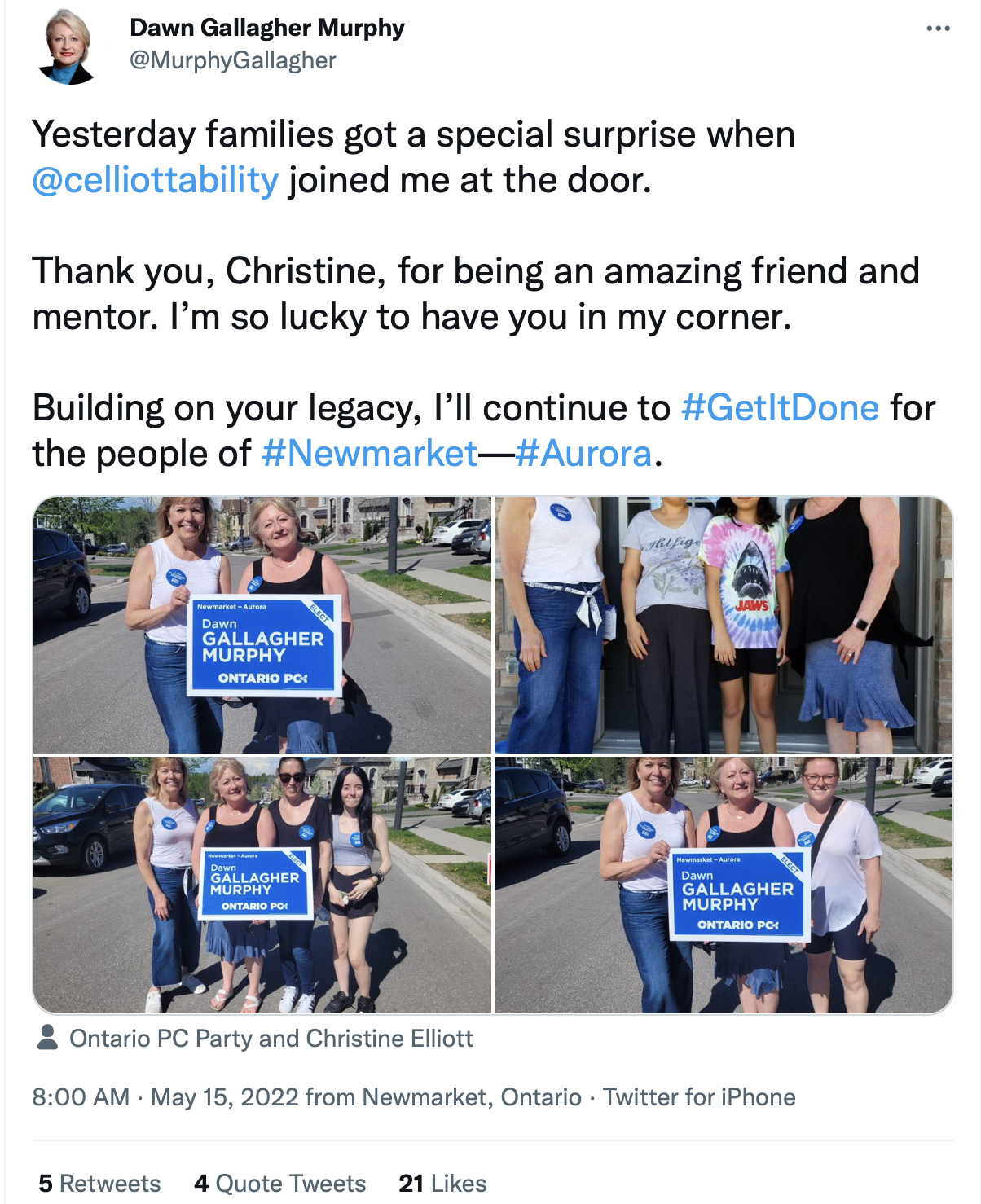 Details

Written by

Gordon Prentice
The next MPP for Newmarket-Aurora, Office Manager Dawn Gallagher Murphy, says she can't attend the Newmarket Chamber of Commerce election debate on 19 May 2022 because of a "scheduling conflict".
That's pure hokum. What kind of fool does she take us for?
She should clear her diary and be there in person to debate the issues of the day with the other candidates.
That is the right thing to do.
What on earth is she afraid of?
Being found out?
Appointed by Ford as a favour to Elliott
Gallagher Murphy wasn't selected by PC members in Newmarket-Aurora. They were side-lined. She was, instead, appointed by Doug Ford as a favour to his loyal Deputy, the dissembling Christine Elliott.
Selecting candidates for the Provincial Parliament in this way is not OK.
And now we hear of Liberal candidates being dropped by their Party - even in the middle of the election campaign. Here in Newmarket-Aurora, the Provincial Liberal Party dumped Shameela Shakeel for failing to meet the required qualifications for being a Liberal Candidate without giving reasons or elaborating.
The NDP have had their problems too.
All parties shop for candidates for the simple reason they don't grow their own. Our septugenarian MP, Tony Van Bynen, wasn't even a member of the Liberal Party in 2019. He joined so he could throw his hat into the ring. He was the only candidate and is now in Ottawa. (Photo right: on 23 April 2022 parties were still searching for candidates.)
Shell organisations
Astonishingly, a few years ago I was asked by a senior member of a political party here in Newmarket-Aurora if I would consider becoming a Parliamentary candidate. I wasn't even a member of that Party then or now. I laughed at the very suggestion - and said no.
Too many riding associations are shell organizations. And even when aspiring MPs and MPPs sign up armies of new members to secure a nomination, it doesn't necessarily translate into an active riding association. If they join as paper members they generally stay as paper members.
I have no time for this kind of transactional politics which leads to cronyism and clientism.
We need to get more people interested in becoming active members of political parties. But that is a huge ask - especially these days when so many younger people are focussed on single issue campaigns and are cynical about conventional politics.
Wither on the vine
So what happens? Political parties - a core part of a living and functioning democracy - just wither on the vine.
Riding associations should be more than vehicles for winning elections. They should be places where Party members can enjoy lively political debate, regularly holding their MPs and MPPs to account. But in too many places this simply doesn't happen.
The media focus is almost exclusively on the Party leadership and the qualities of individual candidates in the ridings is of secondary importance.
Parroting her Patron
Even someone like Dawn Gallagher Murphy will likely be elected to our Provincial Legislature although she just parrots her patron, Doug Ford, and has nothing original to say for herself.
In the Ontario Legislature her vote will have exactly the same weight as her patron, Doug Ford.
But in reality that counts for nothing.
She owes her place to him and will vote as directed. Every time.
This email address is being protected from spambots. You need JavaScript enabled to view it.
Update at 7pm on 12 May 2022: Dawn Gallagher Murphy is a no-show at tonight's candidates' event hosted by the Aurora Public Library.